You may picture temperatures plummeting and snow falling as we round into December. It's the winter itch. But don't get ahead of yourself! We're running warmer than average, with dry and sunny conditions stretching the week.
What's going on?
During winter, we commonly track cold arctic (northern) air slipping to the south and pooling cold air atop of us. When this weather pattern occurs, we forecast bitter cold mornings and chilly afternoons.
Take a look at the temperatures across the nation as of Monday afternoon. The pattern I described above is NOT currently occurring. Quite the opposite.
The southwest and mid-west were far warmer than average (shaded orange and yellow). Plus, notice the coldest temperatures (blues and purples) sit well to the north of our region. In the following days, the weather pattern pushes the warmer air our direction, and forces the coldest air even farther away. As a result, our temperatures will be above average-- flirting with 60 degrees Tuesday and Wednesday.
Plenty of Sunshine
Local
Breaking news and the stories that matter to your neighborhood.
High pressure will linger atop our region over the next several days. What does that mean? High pressure commonly creates something like a "bubble" over a region; it keeps rain or snow or any active weather out of its path. Instead, our region will see sunny to mostly sunny conditions. Rain doesn't return to the forecast until Thursday night, when a cold front approaches the region.
Is this unusual?
Temperatures are above average.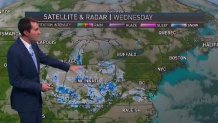 This time of year, Philadelphia sees an average high temperature of 52 degrees. So, upper 50s and low 60s is nearly a 10 degree difference. But, last November ended with two days in the 60s, too. And the record high temperatures for the next several days are in the low 70s. Yes, this is unusual, but not incredibly so.
Was November Warmer Than Average?
Nope! With only several days left in the month, Philadelphia's November is actually slightly BELOW normal (0.9 degrees below, to be exact). Why? Have you already forgotten the bitter cold we battled mid-month? Temperatures only rose to the 40s several days in a row!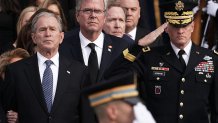 That cold helped to balance the warmer than average days we experienced at the beginning and end of the month. We expect with the last few days of the month hitting near 60, the monthly average will be near normal.
So What Does December Hold?
It will begin fairly average, but models are starting to suggest a big cool down is possible as we progress through the month. This far out, models are just giving a hint of the possibilities, but they seem to be in fairly good agreement on a major pattern shift.
[[460356713, C]]
Check out the American model (GFS) heights projection for next next weekend (Dec. 9). All that blue indicates MUCH cooler temperatures, which may come with more storms as well. Details on that as we get into December and the picture becomes more clear.