Have you ever wanted to explore miles of Philadelphia without worrying about cars getting in your way?
Well, soon you'll be able to...for part of a day.
Here's the deal. It's called Philly Free Streets, and on September 24th, sections of major Philadelphia thoroughfares will be shut down from 8 a.m. to 1 p.m, the city announced Friday.
Those closed routes will host free, family-friendly fitness activities and pop-up educational programming.
The routes include South Street from the Delaware to Schuylkill rivers, Dr. Martin Luther King, Jr. Drive and Black Road in West Fairmount Park.
The Schuylkill River Trail will make up a permanent non-vehicle portion of the route.
In all, a more than 7-mile route will pass through 15 neighborhoods.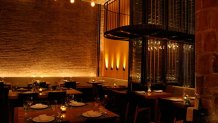 Mayor Jim Kenney announced the event on Friday saying "Philly Free Streets will transform our streets into a safe environment for physical activity, learning, and bettering the futures of thousands of children."
Local
Breaking news and the stories that matter to your neighborhood.
The car-free closure was spurred on by Pope Francis' visit to Philadelphia last September. Whole sections of Center City were car free because of security closures for the multi-day visit.
For more information, visit www.phillyfreestreets.com.