Loved ones mourned a woman who died after suspects who were fleeing police crashed into her vehicle.
A large crowd gathered at the home of Carol Isom, 55, on the 200 block of 53rd Street in West Philadelphia Saturday night to remember the wife, mother and grandmother of five. Loved ones describe her as a woman of faith who loved her family.
"[She] loved her family most of all," said Isom's daughter Jessica Isom. "Family was most definitely important to her. I still can't believe she's gone. It's like a dream I can't wake up from."
Isom will be laid to rest on December 10 which would have been her 56th birthday.
Police Chase Leads to Deadly Crash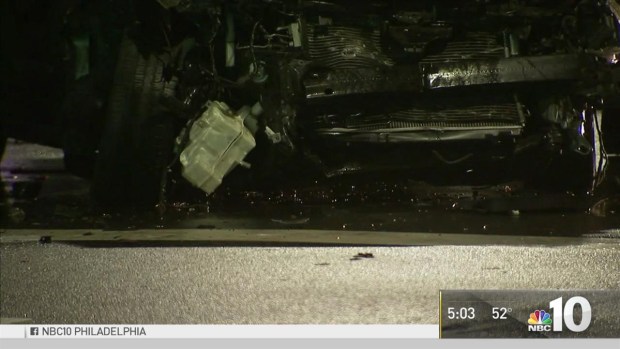 Isom left her home Wednesday night to go to a nearby store and was sitting in her car at 52nd and Locust streets around 7:15 p.m. Wednesday when her vehicle was struck by a gray Nissan. Police say the two men inside the Nissan had fled the scene at 48th Street and Westminster Avenue when officers responding to a report of gunshots tried to stop them.
Isom's car was one of four that was struck by the Nissan. Isom was taken to Penn-Presbyterian Hospital where she was pronounced dead a short time later.
The two suspects, who police say are siblings, tried to flee the scene after the crash but were apprehended by responding officers, police said.
NBC10 obtained exclusive surveillance video of the aftermath of the crash. In the video a man emerges from the smoke and takes off his jacket. An officer then rushes in and pins him against a truck. Another officer then moves the man to the ground and appears to place handcuffs on him. More officers join and the man is led away. Person Dead After Fleeing Suspects Crash Into Cars in West Philly: Police
The suspects were taken into police custody after they were treated and released at Penn-Presbyterian Hospital. Police said they recovered a gun as well crack cocaine from the suspects.
"There was a 9mm extended magazine in the Nissan," said Philadelphia Police Lt. Ray Evers. "The Nissan has strike marks. So we know [there was a] gun battle. Gun fight."
A 27-year-old man who was suffering from gunshot wounds to his left arm and wrist also walked into Mercy Hospital around 7:30 p.m. Wednesday. Investigators believe the man is associated with the two suspects and that he was shot during the incident at 4800 Westminster Avenue.
The two suspects are expected to be charged with fleeing and eluding law enforcement, homicide by vehicle, aggravated assault and other related offenses.
"I just can't begin to tell you how saddened we are by the loss of life," said Philadelphia Police Commissioner Richard Ross.
Commissioner Ross said the department would review the incident and that it appeared the officers did the right thing by calling in the pursuit.