As some residents remain in the hospital while others are still unaccounted for days after a massive fire at a West Chester Senior Living Facility, the community is stepping in to help the victims.
A fire started at the Barclay Friends Senior Living Community late Thursday night, injuring nearly 30 people and leading to a chaotic evacuation.
On Sunday donations for victims were collected at the Good Will Fire Company on 552 E. Union Street in West Chester from 9 a.m. to 7 p.m. Yet even after 7 p.m., cars still lined up outside the Fire Company with people bringing in more donations.
"We have everything from walkers, to commodes to clothing in the other room," said Ted Hartz, President of the Good Will Fire Company.
The West Chester community's support was so overwhelming that a warehouse was needed to store more of the clothes and other supplies.
Fire Sweeps Through Pa Senior Living Home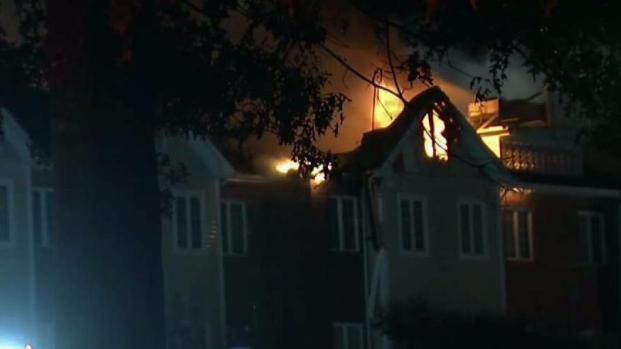 The late Thursday blaze forced 150 residents and staff into the frigid night and sent 27 residents to the hospital — 10 of whom remained under the care of doctors Sunday night.
The five-alarm fire broke out in the personal care section of the Barclay Friends community on the 700 block of North Franklin Street in West Chester around 10:45 p.m. Smoke and flames first appeared in the personal care area of the facility. Employees rushed into the residents' rooms and began ushering them to safety.
Staff evacuated vulnerable residents on foot, in wheelchairs and even in beds, wrapped in blankets.
People at the scene described a frightening rescue from the inferno with some neighbors rushing over to help.
"I'm just envisioning the elderly people burning in their beds because it was so massive... before any rescue came," neighbor Scott Baker said.
Residents were triaged on a neighborhood street, then transported to a number of different shelters on ambulances and school buses.
With tears in her eyes, staffer Nellie Mingey said she was worried about the residents that she had come to know over three years working at Barclay Friends.
"It's sad," Mingey said. "This is their home. A lot of them don't have anywhere to go."
A high level source involved in the investigation told NBC10 that some people are still missing, but cautioned that it's unclear if they left shelters with family or friends.
The Bureau of Alcohol, Tobacco and Firearms (ATF) continues to investigate the cause of the fire and are searching through the burned out complex to collect evidence.
Barclay Friends, a Kendal Affiliate, is a senior living community that provides professional nursing staff 24 hours a day, meals and other services, according to its website.
The nursing home section of Barclay Friends was put on a "provisional license" last November by the Pennsylvania Department of Health (DOH) because of the citations, and fined $9,750 in April, the state said.
The view right now from @SkyForce10 over senior home fire. Firefighters still hosing down the building. @nbcphiladelphiapic.twitter.com/P7ThrvQl8d

— Matt DeLucia (@MattDeLucia) November 17, 2017