What to Know
Kirsten Edwards, who has cerebral palsy, uses a walker to get around.

The walker was stolen after Edwards' mother accidentally left it outside their home last week.

The two men accused in the theft apologized to the family, saying they thought the walker was left out for trash.
One of the two men accused of stealing and scrapping the walker of a young Delaware girl with cerebral palsy is apologizing for his actions but also insisting it was an honest mistake.
"I'm very sorry for the way it looks," Donald Cale told NBC10. "But no, it's not the way it was intended to be at all."
The incident occurred outside a home on Rodney Drive in Wilmington, Delaware back on Nov. 30. Brittany Murray told police she placed her 10-year-old daughter Kirsten Edwards inside her car outside their home and then drove away. After driving for 20 minutes, Murray realized she had left her daughter's walker in the front yard. She then called her husband who was still at their home. When her husband looked outside the walker was gone.
Late Monday night, Cale, 49, and Leland Watson, 51, were both arrested after police say they were caught on surveillance video taking Edwards' walker outside the home. The men placed it in Watson's Chevrolet 1500 truck. They then crushed and scrapped the critically needed medical device, according to police.
Both suspects were arraigned on felony theft and conspiracy and released on bail, police said. Watson also faces a possession of heroin charge.
Walker Stolen From Girl With Cerebral Palsy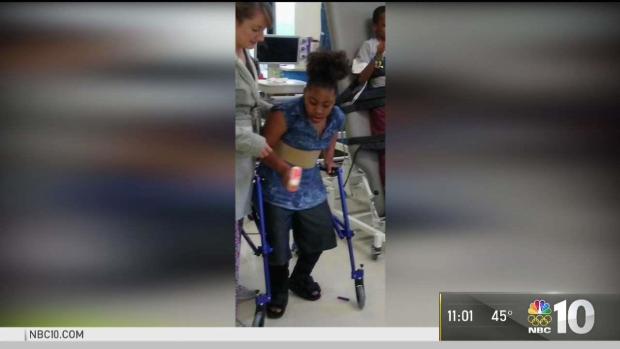 Edwards recently spent months in the hospital after having her hamstrings lengthened and a bone removed from her foot. Her walker was the only way she was able to get around on her feet.
"One of the things that I love doing is walking so I am very, very upset," the girl said Monday.
With the walker gone, Edwards was forced to use a wheelchair.
"Someone might look at her and say she's in a wheelchair, so she's able to get around but no, the surgery that she just had in July, she technically has to have that walker so that she can stretch her legs out so that it doesn't reverse the process of the surgery she had," Murray said.
Murray told NBC10 the family needed to come up with $1,500 to get a new walker. For now, they're using another walker loaned to them by their neighbor Wade Stabley, who also captured the two suspects on his home surveillance video.

"It made me upset that someone would have the audacity to take and steal a child's walker that she needs to be able to get around," Stabley said.
Cale and Watson returned to the home and knocked on the door Monday night to apologize, Murray said. Cale also spoke with NBC10's Tim Furlong Tuesday and insisted it was an honest mistake.
"If we knew that it was usable, we would not have touched it or nothing like that, period," he said. "We did not mean to bother you people or nothing like that. We are sorry. We're sorry."
While Murray acknowledges that people make mistakes she also says she doesn't believe Cale's story, telling NBC10 the walker wasn't at the curb like most trash but instead was halfway up the driveway.

"It's not like it was sitting on the edge of the street corner, it was sitting on our property close by our front door," Murray said. "So you felt comfortable enough to come up to somebody's property and take it."
Murray also said the men never knocked on her door to ask if they could take it.

"I'm not buying it," Murray said. "You're not going to sit and tell me the fact that you can feel as though it was scrap when it's a shiny blue little thing."
New Castle County police and the family say since the theft, they've received offers from around the region from people who want to help get Kirsten a new walker.