Six separate shootings and a domestic killing involving a crossbow left three people dead and four others wounded across Philadelphia in just a few hours overnight.
In the earliest killing, police say a woman died after her boyfriend shot her through the chest with a crossbow about 9:20 p.m. inside their home on the 3100 block of Willits Road in Northeast Philadelphia. Police have said they responded to the home several times in the past for domestic issues.
In another domestic incident unrelated to that killing, police say a 24-year-old man died in West Philadelphia shortly before midnight after he broke into his ex-girlfriend's home on Edgewood Street near Walnut and came face to face with her new boyfriend, who shot him in the head and arm. Police took the boyfriend into custody and recovered the gun they believe he used, but it was unclear early Monday whether charges would be filed.
Overnight Shootings Kill 2, Wound 4 More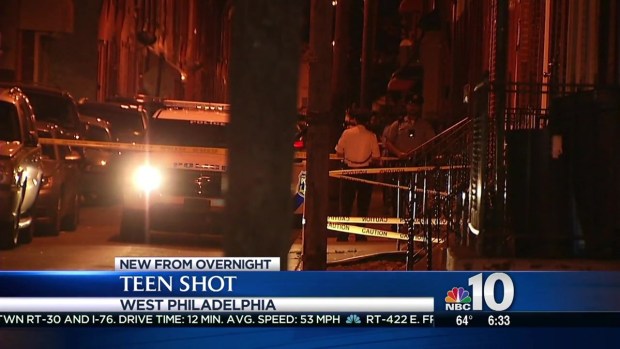 Also in West Philadelphia less than a half-hour later, a 17-year-old boy suffered a wound to his arm after someone shot him on Vine Street near 54th. The teen underwent treatment at Presbyterian Medical Center, where police say he was in stable condition. No arrests were made in that shooting.
About the same time in North Philadelphia, a 19-year-old woman sustained a gunshot wound to her thigh when gunfire erupted on Sterner Street near 26th, police said. The woman was taken to Temple University Hospital, where she was in stable condition. Police recovered eight spent shell casings at the scene, but reported no arrests or suspects.
In Mill Creek, gunfire wounded a 23-year-old man in his arm and stomach on Creighton Street near Wyalusing Avenue, leaving him in critical condition. That man remained at Presbyterian Medical Center Monday morning, and police did not say why they suspect he was shot or report any arrests.
Just after 1:30 a.m., another shooting in North Philadelphia, this time on Cleveland Street near Dauphin, left a 36-year-old man dead. Responding officers found the victim lying in the street suffering gunshot wounds to his chest, police said. They took the man to Temple University Hospital, where he died about 15 minutes later. Police said they found drugs and paraphernalia at the scene of the shooting, leading them to suspect drugs at the motive. At least 14 spent shell casings littered the block in the shooting's aftermath as homicide detectives investigated.
Elsewhere in North Philadelphia, a 31-year-old man suffered an injury to his leg when police say someone shot him at 6th and Clearfield streets, in the Fairhill neighborhood. That man was stable at Temple University Hospital, and police reported no arrests.
Police Commissioner Richard Ross said Monday morning that he doesn't attribute the weekend bloodshed to warmer temperatures, telling reporters there isn't really evidence that shows violence increases with warm weather.
"There are more people out, but sometimes we get violent weekends in January, so the bottom line is if it's violent, it's violent, it's something we don't want whether it's 90 degrees or 30 degrees," Ross said.
He said the police are out across the city working to keep the streets safe.
"To be honest with you, as sad as it may sound, I mean, six people shot is not a lot of people shot in Philadelphia, and that's a sad testament," he said. "Clearly we're never happy with that, but we're out there, and you can't ever, ever overlook the impact that we're having on what you can't measure."
Anyone with information in any shooting or homicide may contact Philadelphia Police at 215-686-TIPS (8477) or text a tip to PPD TIP (773 847). A $20,000 reward for a tip leading to an arrest and conviction is offered in every homicide case.