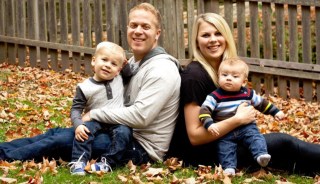 One of the worst feelings in the world is when you lose something valuable or meaningful and know it either can't be replaced or would be really tough to recover.
Just ask Cory Heal.
The 26-year-old medical student was golfing Saturday at The Club at Shannondell golf course in Norristown when a thief broke into his car and took his backpack. Inside are his laptop, iPad with all his notes from the last two years and text books he needs for a critical licensing exam.
"The exam is called the United States Medical Licensing Examination Step 1. It is the most important exam in medical school," Cory said.
And that's just the practical stuff. His computer's hard drive had family photos he can't retrieve, including pictures from the day his youngest son was born.
With the expense of medical school and raising two toddlers, Cory's classmates at Drexel University College of Medicine knew it wouldn't be easy for he and his wife Emily to run out and buy a new computer and iPad.
"Gorka Murga is a classmate of mine who created the gofundme page and started spreading the word to his friends and other medical students," Cory said.
With nearly 100 donations, the gofundme page, Theft Recovery Fund: Cory & Emily, had raised over $2,000 by Monday afternoon.
"Cory and Emily shouldn't have to deal with the sadness of losing their pictures, the stress of upcoming boards AND the financial burden of buying stuff," the page states, signed by -Cory's classmates.
Audubon Police are investigating the theft.