After all of the speeches, and the videos, and the cheers, and the tears, and a historic speech by Democratic presidential nominee Hillary Clinton, there was still one final order of business Thursday night at the Democratic National Convention -- the balloon drop.
Delegates React to Hillary Clinton's Speech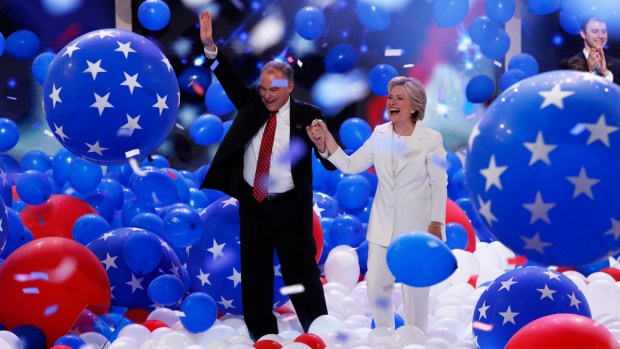 And what a drop it was. By the time they finished falling from the sky, the crowd had to nearly wade through a lake of red, white and blue to exit the Wells Fargo Center.
The massive balloon barrage also led to some entertaining moments on stage:
This guy is popping balloons by biting them #DemConventionpic.twitter.com/OSnlblnDiS

— Joe Perticone (@JoePerticone) July 29, 2016
He was so excited to hit the balloon, then he realized who he was standing next to #DemsInPhillypic.twitter.com/kZjzwZ6A4y

— Brandon Wall (@Walldo) July 29, 2016
Here's your @HillaryClinton throwing a balloon at the #DemConvention GIF: pic.twitter.com/4gytyA5Y2m

— Frank Thorp V (@frankthorp) July 29, 2016
Bill Clinton bats balloons back at crowd #DemsInPhilly#DNCinPHLpic.twitter.com/6anmGYpOI7

— jim walsh (@jimwalsh_cp) July 29, 2016
BILL! God, he was made for GIFs. pic.twitter.com/ljwZkxmaJy

— Allison Rockey (@AllisonRockey) July 29, 2016
Last to leave the nest #DNCinPHL#DemsInPhillypic.twitter.com/2wGWGYyr7a

— jim walsh (@jimwalsh_cp) July 29, 2016