A young man who police believe may be homeless is in custody and is expected to be charged Saturday in connection to the stabbing and attempted robbery of Philadelphia Councilman David Oh earlier in the week.
Shawn Yarbray, 24, was identified as the suspect in the attack Wednesday night outside Oh's home in the Kingsessing section of Southwest Philadelphia, police said. He turned himself in to police Saturday morning.
Oh was briefly hospitalized after he suffered a knife wound to his side, but the Republican at-large councilman was back at work less than 48 hours after the injury.
Yarbray's lawyer claimed his client is innocent and doesn't even know who Councilman Oh is. Oh told NBC10 he helped police identify Yarbray as his attacker however. Oh said the suspect was carrying a small, metal shiv during the stabbing.
"It did penetrate the diaphragm," Oh said. "I needed surgery but fortunately it didn't cut into anything else."
Wounded Philadelphia Councilman: 'Did You Just Stab Me?'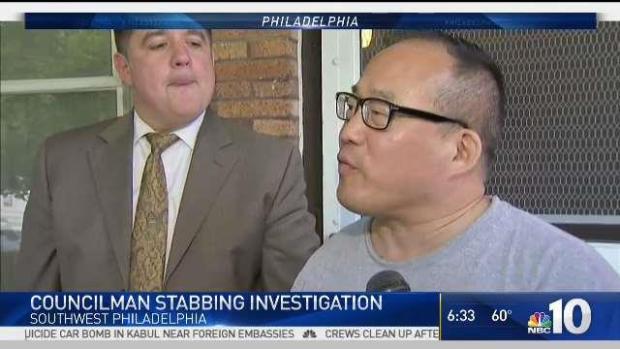 Oh also said the assault is a chance to confront the systematic issues that can lead people to commit violent acts.
"I made a rather speedy recovery and I'm motivated to get out, get to work and I think address the underlying issues about why people end up in unfortunate circumstances here in our city," Oh said.
Yarbray will likely be arraigned Saturday night, according to his attorney.

CORRECTION: An earlier version of this story had an incorrect spelling of the suspect's name, which was provided by the Philadelphia Police Department.