What to Know
A shooting outside Philadelphia's Central High School Monday morning left a 17-year-old girl with a gunshot wound to her shoulder.

Central High, Girls' High and Widener Memorial School were temporarily placed on lockdown, police said.

Police say the girl was not the target, but caught in the crossfire of at least two shooters.
A teenage student on her way to school darted inside Philadelphia's iconic Central High School after being caught in the crossfire of a nearby shooting Monday morning.
The 17-year-old girl ducked into Central High after the shooting at Kemble Park, which is across the street from the school on the 1600 block of West Olney Avenue, around 8:15 a.m., Philadelphia police said.
The girl, who attends Central, was rushed to nearby Einstein Medical Center in stable condition to be treated for a non-life-threatening gunshot wound to her right shoulder, police said.
She appeared to have been caught in the crossfire when two people fired at least five shots at each other or another person in the nearby park, Philadelphia Police Commissioner Richard Ross said.
Central and nearby Philadelphia High School for Girls and Widener Memorial School were placed on lockdown after the shooting. The lockdowns were lifted around 9:15 a.m.
"It's a horrible thing when a student can't even walk to school without sustaining a gunshot wound, it's one of the worst nightmares," Ross said. "Thankfully she's going to be OK, save for the fact that, obviously, she's traumatized."
Student Shot While Walking to Central High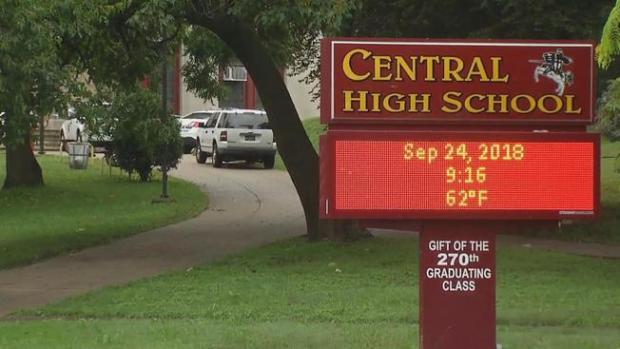 Central's principal heard the gunshots, Ross said. Some bullets struck homes across the street from the park.
A robo call was sent out to parents to alert them to the incident and a letter would be sent home with Central students, the school district said.
Police continued to search for clues in the gun battle through Monday morning.
An extra police presence greeted students outside the school Tuesday.
Police Making Sure Central Students Safe After Shooting Outside School