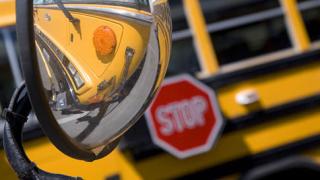 Medics responded to the scene of a school bus accident in South Jersey Saturday afternoon.
The crash happened along Route 541 (Stokes Road) near Schoolhouse Drive in Medford, Burlington County around 1:30 p.m., according to officials.
Investigators say four school buses operated by Integrity Transportation LLC. of Galloway Township were traveling northbound on Stokes Road while carrying the Asbegami High School Marching Band to a competition. As the vehicles were traveling, the third bus stopped in traffic and was struck behind by the fourth bus, according to investigators.
Two adult chaperons and 21 students were on board the third bus while one adult chaperon and 21 students were on the fourth bus.
Seven students in all suffered minor injuries in the crash. Six of those students refused medical treatment in accordance with their parents' wishes. A 17-year-old student was taken to Virtua Hospital after complaining of back pain.
The driver of the fourth bus, 65-year-old Dora Previti of Linwood, New Jersey, was issued a summons for careless driving.