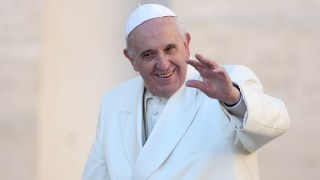 If you're planning on renting out a room or your entire house for Pope Francis' visit to Philadelphia in September, don't worry about getting a rental license, city inspectors say.
Upward of 2 million people are expected to make a pilgrimage to Center City when the pontiff visits from Sept. 25 -27 and takes part in the World Meeting of Families conference. The problem: there are only 30,000 hotel rooms in the entire region and many are expected to be taken up by conference attendees.
The short supply offers a grand opportunity for people living in the city to offer space to visitors for whatever price they wish. A sampling of offerings posted to Airbnb and Craigslist range from $9,500 for a two-bedroom apartment in the Gayborhood to a three-bedroom house in South Philly for $3,200.
In addition to these renting entrepreneurs, conference organizers hope more than 10,000 families open their homes to visitors through it's sanctioned Homestay program.
There is a gray area, though.
The city code prohibits anyone from renting out a room or an entire house without first getting a Housing Rental License from the city's Department of Licenses & Inspections. The license costs $50 and there's an application that needs to be processed. Those renting places with more than four units would first need to get a Commercial Activity License.
But, L&I officials say they take a different stance when it comes to short-term renting.
"If you're living in the house and it's a one-time thing, generally it's not a problem," L&I Deputy Commissioner Ralph DiPietro tells NBC10. "If you don't live there and you rent it on an ongoing basis, that becomes a problem."
DiPietro said officials are most concerned with people operating unlicensed boardinghouses, property owners not living in the places they're renting and those who are continually advertising their places for rent as a business.
Also, trying to track down one-time renters would be tough.
"The department would never even know you're doing it. And by the time we were to find out, cite you and give you time to get the license, it would be done and you'd probably never do it again. So it's fruitless," DiPietro said. "The Pope's probably not going to visit again for some time."
The deputy commissioner cautioned, however, that everything can be looked at on a case-by-case basis.
You will have to worry about paying taxes for being a temporary innkeeper — at least to the state.
William Cotter, a tax attorney with Reger Rizzo & Darnall, LLP, said those who rent out their personal residence for less than 15 days will not have to report that income to the federal government.
"In this case, you do not have to report any of the rental income, but you also do not get to deduct any expenses as rental expenses," he said.
Pennsylvania doesn't offer the same exemption for income taxes and you'd likely have to pay up when you file, Cotter said.
---
Contact Vince Lattanzio at 610.668.5532, vince.lattanzio@nbcuni.com or follow @VinceLattanzio on Twitter and Facebook.