We may be looking at our first snowy days of the year this weekend.
A storm system will move in on the greater Philadelphia area for the weekend. Snow will begin late Friday or early Saturday. The snow will be mixing with sleet and freezing rain in some parts of the area.
According to our weather team, the best chance for accumulation will be in the areas north and west of the city but 1 to 3 inches could fall in the city and nearby areas. North and west the totals could be 3 to 5 inches -- and the Poconos could get up to 8 inches of snow.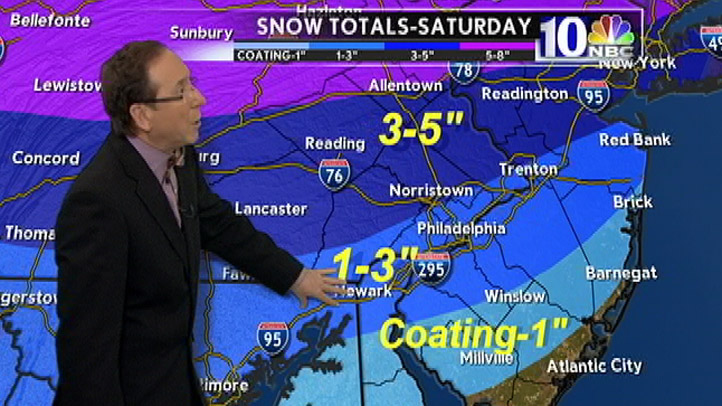 The Poconos could see plenty of white powder on ski slopes. A Winter Storm Watch is in effect late Friday night into Saturday night for the Poconos, according to the National Weather Service. A Winter Storm Advisory is in effect for Philadelphia Saturday morning and most of the surrounding area except for extreme Southeast New Jersey and Southern Delaware.
If the snow changes over to sleet or rain there could still be problems with ice where the temperatures remain below freezing. Philadelphia could see the snow change to rain as the warmer air moves north and temperatures climb above freezing but it's possible this remains a snow event for many areas, according to Glenn "Hurricane" Schwartz.
The storm moves out quickly and by Saturday night it is dry with Sunday being the better day over the weekend, according to forecasters.
Here is the expected timing for Saturday:
Midnight to 3 a.m. - Snow should develop after midnight everywhere except southern Delaware where it will be all rain.
3 to 6 a.m. - Snow should increase in intensity and will continue to accumulate north of the city. The snow will change to rain across Southern New Jersey and Central Delaware.
6 to 9 a.m. - The rain should change to sleet or freezing rain along I-95. It should change to rain along the coastal sections. Snow should continue across Lehigh Valley and the Pocono Mountains.
9 a.m. to noon - Temperatures should warm above freezing across most of South Jersey and Delaware. Sleet and freezing rain should expand north through parts of Montgomery and Bucks Counties. Snow should continue however across Lehigh Valley and the Pocono Mountains.
As the afternoon continues, the wintry mix should end from the west to east.
Projected Snowfall Totals
| | |
| --- | --- |
| Dover | Coating |
| Millville | Coating |
| Winslow | Coating |
| Barnegat | Coating |
| Brick | Coating |
| Atlantic City | Coating |
| Newark | 1 to 3 inches |
| Philadelphia | 1 to 3 inches |
| Norristown | 1 to 3 inches |
| Lancaster | 3 to 5 inches |
| Reading | 3 to 5 inches |
| Allentown | 3 to 5 inches |
| Poconos | 5 to 8 inches |
Philadelphia and parts of Wilmington could also see around .02 inches of ice. While this amount is not drastic it could be enough to cause some slippery roadways. Dover could see up to .1 inches of ice.
---
Fan, follow and download: Get the latest from NBCPhiladelphia.com anytime, anywhere. Follow Hurricane Schwartz on Twitter, the NBC10 Earthwatch on Facebook and on our mobile site. Sign up for our weather newsletter. And, get weather forecasts delivered right to your mobile phone -- just text PHIWEATHER to 639710 to sign up. (Message and data rates may apply.)