Police say the man suspected of kidnapping a missing 7-month-old boy may have injured the child a few days before he disappeared.
Upper Darby Police Chief Michael Chitwood said Wednesday that investigators think 30-year-old Ummad Rushdi must have had second thoughts about how he disposed of the child's body.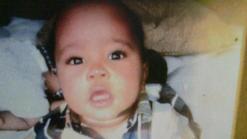 Chitwood says he thinks Rushdi first buried the child near Columbia, then retrieved the remains and reburied him in a white garment.
Hamza Ali has been missing since Aug. 4, when Rushdi apparently took the child from a home in Upper Darby. Police say Rushdi told his brother he shook the child to death.
Chitwood says Hamza's mother described a recent incident that may have injured the boy's shoulder or arm.
Rushdi's lawyer hasn't returned calls seeking comment.

More Stories at NBC10.com:
Booker Says He Expects GOP Support
Reality TV Couple to Enter Plea in Fraud Case
Jogger Knees Would-Be-Abductor in Groin
Published at 3:52 PM EDT on Aug 14, 2013 | Updated at 4:02 PM EDT on Aug 14, 2013