Police searched the home of the parents of a man accused of killing his wife, whose body still has not been found.
Four police cruisers arrived at Kyle Crosby's parent's home in Sicklerville, New Jersey Wednesday night. The Prosecutor's Office told NBC10 they were investigating the home but did not go into further detail.
Police collected evidence while searching around the home as well as a wooded area behind the house. They also focused their search near a shed in the back of the property. Workers with the Child Protective Services (CPS) also removed a baby from the home. They finally left the house shortly after midnight.
On Tuesday, Crosby, 28, of Mt. Laurel, was charged in the death of 26-year-old Erica Crippen Crosby, his wife of about a year. Kyle and Erica Crosby's 2-month-old child was placed in the custody of Kyle's parents after Erica went missing. Officials took that child back into state custody late Wednesday.
Police Arrive at Home of Murder Suspect's Parents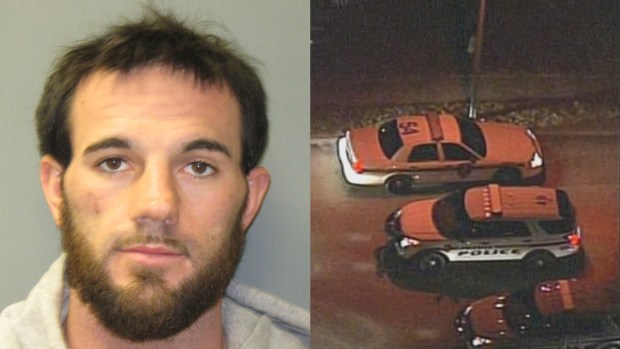 Crosby, who went missing shortly after he was first questioned in Crippen Crosby's disappearance, was taken into custody Tuesday following a traffic stop and short foot chase in Bellmawr Monday night. He was driving his wife's missing red 2000 Ford Taurus before he took off, police said.
Kyle Crosby battled drug addiction and had gone on a drug binge in Camden with another woman after his wife went missing, her family told NBC10. Crosby and the woman sold some of Erica's clothing for drugs, they said.
Before Monday, Crosby's phone was disconnected and he hadn't shown up for work since he was first questioned, according to relatives.
The mother of two was last seen at a restaurant in Cherry Hill with her husband on Dec. 31. She posted a new photo on Facebook just before 11 that night and hasn't been heard from since.
Crosby alerted his wife's family of her disappearance the next day, they said.
"It's not like Erica to just walk out of the house and leave her kids," said the victim's cousin Sonay Ramos-Kellan.
Erica Crippen Crosby left the couple's apartment that night without her coat, keys or purse, according to her family who searched the home last week.
"The shower curtain is missing, the sheets from the bed are missing," said cousin Barbara Kellan.
The couple got married last summer after Kyle was released from jail, said Crippen Crosby's family. They have a 3-month-old daughter together. Erica has a 7-year-old daughter from a previous relationship.
"If you all were arguing you could have come to me or walked away," said Janiya Crippen, Erica's sister. "Kyle, she loved you! She loved you so much! She really wanted you to do better! He was in a rehabilitation center last month, trying to get clean. She loved him. And she wanted him to be a better father to her kid."
Crosby was also charged with child endangerment last week following a wellness visit on Jan. 7 after his 7-year-old stepdaughter missed school. He filed a missing-person report for Erica that day.
"We care about Erica," said her best friend Amaris Torres. "We need her home. Dead or alive, we want her."
Crosby, who has a history of assault and drug charges, is being held in county jail on $1. 2 million bail. During a hearing Tuesday afternoon, Crosby told a judge he'll likely hire a private attorney and does not want a public defender.
Erica Crippen Crosby's body has not been located.
"I'm hoping that Kyle softens his heart and just tells us where she is," said Kellan. "This is a sad, sick situation."