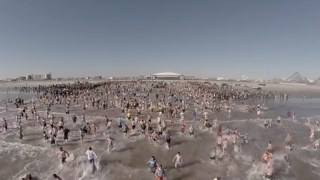 An annual polar plunge in Rehoboth Beach has raised a record amount of money.
More than 3,300 people took a dip in the icy Atlantic Ocean for the Lewes Polar Bear Plunge on Sunday, raising a record $780,000 for Special Olympics Delaware.
The News Journal reports that the water was 37 degrees, 4 degrees colder than the air temperature.
Joe De Rosa of Wilmington says it was his 13th time taking the plunge in Delaware, his 27th overall.
He says he went in to the water as far as he could, adding: ``I didn't drive 70 miles to get my feet wet.''
In 24 years, the plunge has raised $8.3 million for children and adults with intellectual disabilities.