A bull gored a South Jersey man and two Brits during the running of the bulls through the streets of the northern Spanish city of Pamplona on Monday, officials said.
Aryeh Deutsch, 38, is an engineer from Cherry Hill. He was gored in the right calf, treated and released from a hospital.
Deutsch said he tripped and fell as a crowd of runners dashed ahead of him.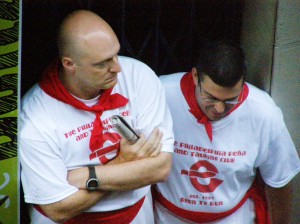 It's not the first bull run for Ari, who is co-founder of The Philadelphia Pena and Taurino Club.
He and Peter Milligan, the other co-founder, (pictured on the left) have been blogging about their bull runs since 2008.
The two other victims suffered leg wounds as well. None of the injuries is life-threatening.
Thousands of daredevil runners charged ahead of six fighting bulls in the annual San Fermin festival on Monday, when the three were gored by a bull that broke free from the pack just before entering the city's bullring, a Navarre regional government statement said.
The bull charged the runners as they huddled on the ground beside a wooden fence, trying to protect themselves from the beast.
The morning runs are the highlight of the annual San Fermin festival, which became world famous with the publication of Ernest Hemingway's 1926 novel "The Sun Also Rises.'' This was the third day of the runs.
Four other people were treated for cuts and bruises sustained in the adrenaline-fueled dash along the 849-meter (928-yard) course Monday. The run lasted just over three minutes.
Fifteen people have been killed by bulls in the runs since record began to be kept in 1924.
The runs take place daily until July 14 and are broadcast on state television.