Detroit has the Motown Museum. Mississippi has a blues trail. Memphis has Graceland, Sun Studio and the Stax Museum of American Soul.
But in Philadelphia — birthplace of the lush acoustic style known as The Sound of Philadelphia and the hometown of "American Bandstand" and Chubby Checker's "Twist" — there's no major place of pilgrimage for music fans.
"Tourists come here expecting and hoping to experience our music legacy, and we leave them wanting," said Patty Wilson Aden, president of The African American Museum.
A Diverse Musical Legacy
Philadelphia doesn't ignore music history entirely. A Walk of Fame, murals and historical markers honor musicians and the music industry. Opera stars Mario Lanza and Marian Anderson have mini-museums.
But there's been no effort to paint a larger picture of a vibrant musical landscape that has included Patti LaBelle, Bobby Rydell, Fabian, Hall & Oates, Boyz II Men, the Dead Milkmen, Jill Scott and The Roots and John Coltrane.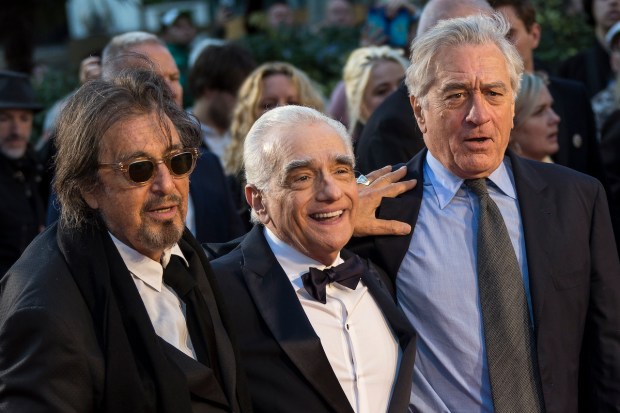 Top Celeb Pics: London Film Festival, Ace Comic-Con and More
"It does hurt a little bit that we don't have (a museum) when we are one of the strongest cities musically," said Nate Morris, a founding member of Boyz II Men.
Part of the problem, says Temple University history professor Bryant Simon, "is the diversity of the sounds. They don't lend themselves to coherence like Nashville or Motown. Which story would you tell?"
Philadelphia was one of three finalists for the Rock and Roll Hall of Fame but lost out to Cleveland. Music promoter Larry Magid, who brought the Live Aid concert to Philly in 1985 and booked shows at the storied Electric Factory venue, was involved in the failed effort to locate the Rock Hall here. Over the years he's tried to rekindle the idea of a Philly music museum but funding has proven elusive.
"It's not about a piano or a gold record or a piece of clothing," he said. "It's asking why did all these talented people come out of Philadelphia? How did it work?"
Vanishing Legacy
Many touchstones in the city's musical landscape have been torn down, burned down or turned into apartments and businesses. Others are in distant or rough parts of the city that see little tourism or business.
Kenny Gamble and Leon Huff's Philadelphia International Records, home of musicians like Teddy Pendergrass, Lou Rawls and the O'Jays, offered tours and a small gift shop before an arsonist nearly burned the place down in 2010. Before they bought the building in 1970, it was home to Cameo Parkway Records, where Chubby Checker recorded the "The Twist" and Dee Dee Sharp recorded "Mashed Potato Time."
A hotel and residence is now planned for that site. But the vision of a museum honoring The Sound of Philadelphia — which Gamble, Huff and Thom Bell created — is still alive, according to Chuck Gamble, Kenny Gamble's nephew. Most of the studio's memorabilia was saved from the fire and could be displayed. "Philadelphia needs the same kind of attention that Memphis gets and Detroit gets," he said.
He's working with the R & B Hall of Fame — a virtual hall of fame that has inducted over 100 artists — to bring the hall's annual induction ceremony to Philadelphia in 2018. The hope is to build interest and perhaps establish a joint museum one day, he said.
The Uptown Theater is one of Philly's last remaining historic theaters, part of the "Chitlin Circuit" that featured black performers over much of the 20th century. "Everybody who was anybody played at the Uptown," said Simon, whose courses at Temple included one about the Uptown. "Ray Charles, James Brown, Miles Davis, famous black comedians, all the Motown acts, all the Atlantic (Records) acts, all the Philly International acts."
7 East Coast Music Festivals You Won't Want to Miss
Linda Richardson has spent 25 years saving the Art Deco theater and bringing it back to life, along with the surrounding community near Temple. She'd like to raise money to renovate it and find "an impresario" to run the entertainment side. "We used to have tour buses come past and stop but it didn't give them a flavor and wasn't bringing any revenue," she said.
Music Tourism Successes
Music tourism has taken off in cities like Detroit and Memphis and even in the Mississippi Delta, birthplace of the blues.
At the Motown Museum — located in the house of the label's founder, Berry Gordy — visitors glimpse the sofa where Marvin Gaye napped and the candy machine Stevie Wonder memorized the buttons for. They even learn the steps to "My Girl" in the studio where The Temptations recorded it. Motown Museum CEO Robin Terry says some 75,000 people visit annually.
In Memphis, Elvis Presley's mansion, Graceland, became a tourist magnet after opening to the public in 1982. That spurred revitalization of a stretch of clubs and restaurants on Beale Street. Two historic recording studios, Sun and Stax, also opened for tours. Today Memphis is a major destination for music fans from around the world.
"Philadelphia is such a great city with a strong musical legacy similar to Detroit, New Orleans, Liverpool and Memphis," said Regena Bearden, chief marketing officer of the Memphis Convention & Visitors Bureau. "All are still influencing artists today. I know these projects can be challenging to get done but Memphis is living evidence of how important it is to cherish, promote and support the legacy as well as the musicians making music today."
She added: "The Liberty Bell is a great symbol and a nice photo op, but it doesn't make you dance."
Looking to follow Philly's musical legacy? Here are some spots to swing by. (Not all are open to the public.)
MARIAN ANDERSON HISTORICAL RESIDENCE MUSEUM, 762 South Martin St.
The contralto was the first African-American to sing at New York's Metropolitan Opera. The museum is in the house she bought in 1924. It contains photos, books, memorabilia and films, and also supports an artists-in-residence program developed by the Marian Anderson Historical Society to encourage and mentor outstanding classical artists. Open daily 10 a.m. - 4 p.m., Monday-Saturday.
MARIO LANZA INSTITUTE AND MUSEUM, 712 Montrose St.
The museum houses a variety of memorabilia from the beloved tenor. It's adjacent to the church where Lanza was an altar boy. Open by appointment only; deposit required at least two weeks before the tour, 215-238-9691.
SIGMA SOUND STUDIOS, 212 N. 12th St.
The studio founded in 1968 by engineer Joe Tarsia helped create "The Sound of Philadelphia" — rich layers of vocals and orchestral arrangements, often echoing with a political message. It churned out hits like The Trammps' "Disco Inferno" and The Three Degrees' "When Will I See You Again." Many Gamble and Huff hits were recorded here, including The O'Jays' "Love Train." David Bowie recorded portions of his 1975 album "Young Americans" there. The studio has been sold and is expected to become residential space. The exterior remains, and a peek through the glass front doors shows a demolished interior.
THE UPTOWN THEATER, 2240 N. Broad St.
The Uptown rivaled New York City's Apollo theater, and was a major stop on the "Chitlin Circuit" — a network of clubs and theaters with mostly black owners and audiences during segregation. Anyone who was anyone in R&B and soul played there during the theater's heyday in the 1950s and '60s. Guided tours are offered by appointment only, 215-236-1878.
SITE OF AMERICAN BANDSTAND, 4548 Market St.
Dick Clark hosted the wildly popular "American Bandstand" show at WFIL-TV in west Philadelphia in the 1950s and '60s. It became a cultural touchstone for legions of teenagers eager to hear the newest pop music and see the latest dance craze. The building now houses a small business development center, but the studio is still intact with the original lighting and memorabilia is highlighted around the building. Tours can be arranged in advance.
THE JOHN COLTRANE HOUSE, 1511 N. 33rd St.
The renowned sax player lived here from 1952 to 1958, playing with the Miles Davis Quintet for part of the time. The house became a national historic landmark in 1999 but has fallen into disrepair.
THE SHOWBOAT/BIJOU, 1409 Lombard St.
The Showboat was a tiny club in the basement of the Douglass Hotel, where performers often stayed when in Philadelphia. The club hosted greats like Miles Davis, Dizzy Gillespie and Thelonious Monk. In 1963 John Coltrane recorded "Live at the Showboat" there. It was later renamed "The Bijou Cafe," which became a hotspot for up-and-coming artists, including U2 and Prince. But there's no longer public access to the basement.
THE ROYAL THEATER, 1524 South St.
This was the city's first black-run theater dating from 1919 and a center of African-American nightlife for decades, hosting the likes of Fats Waller, Cab Calloway and Billie Holiday. It closed in the 1970s and sat vacant and decaying until Kenny Gamble's Universal Companies bought it in 2000. Over the years there was talk of transforming it into a music museum, possibly housing the Rhythm and Blues Foundation or restoring it as a live music venue. The cost of rehabbing the Royal was eventually deemed too high and the theater was sold to a developer of luxury residences last fall. Demolition began at the end of February, and only the facade will remain.
PHILADELPHIA INTERNATIONAL RECORDS, 309 Broad St.
It's now an empty lot, but visitors with keen imaginations can envision the building where Kenny Gamble and Leon Huff collaborated on hits like the O'Jays' "Love Train," Billy Paul's "Me and Mrs. Jones" and McFadden & Whitehead's "Ain't No Stoppin' Us Now."
THE CHECKER CAFE (LATER, THE CHECKER CLUB), 2125 Ridge Ave.
This dilapidated building is the shell of the last jazz club along what was once the bustling Ridge Avenue jazz corridor. Other clubs there like The Pearl and the Blue Note were better known, but the Checker Cafe was where musicians would hang out before and after nearby shows. Pearl Bailey worked there as a waitress.