This is the third installment of NBC10 First Alert Weather Chief Meteorologist Tammie Souza's story of her son Caleb battling a brain tumor.
Read Part 1: 'Tragedy, Bravery and a Very Big Miracle'
Read Part 2: Picking Up & Going
The Tumor and the Doctor
We sat in Caleb's hospital room and watched the sunrise over Lake Michigan. He was sleeping peacefully. Monitors and medical equipment lined his bed with various wires leading back to his small body. There was an IV line in his arm and an ID band on his wrist. On the dry erase board above his bed was his name and weight. Caleb had lost an alarming 9 pounds. He was already a thin boy and now he looked so tiny and emaciated. I just kept asking myself, "How did this happen?" Two days ago he was playing baseball and eating pizza.
Paige, the pediatric nurse assigned to Caleb, stopped in to check on him several times. She was the nurse we would credit with helping to save his life the next day. More on that later.
Caleb was stable, but on medication for pain and swelling in his brain. Greg had already spoken to Caleb's neurosurgeon the night before, while I was traveling from Philadelphia to Chicago. It wasn't until later that morning I finally met Dr. Amanda Saratsis. She is a petite, soft-spoken woman with long, blonde hair – one of six pediatric neurosurgeons at the hospital where she also conducts research on pediatric brain tumors. I instantly felt comfortable with her. Maybe it was the confident and reassuring way she carried herself or the respectful manner with which she spoke to both Caleb and us.
Caleb Souza Stays Positive Through Brain Tumor Journey

We had so many questions: What type of tumor? Is it malignant? Is it operable? How rare is it? How long has it been growing? What caused it? Why is he having headaches, dizziness, vomiting and balance problems? She told us Caleb's tumor was likely a low-grade glioma known as a Pilocytic Astrocytoma. I had read about this rare type of pediatric brain tumor. They are the most benign and slow-growing type of tumor, with about 2,000 diagnosed in children each year in the U.S.
They can be located in various parts of the brain, but typically are found in the rear portion, like Caleb's. Size is what makes them deadly. His was very large, about the size of a lemon with a surrounding capsule the size of an orange. It was sitting in the back of his brain squeezing out the area where the cerebellum should be. It was also closing off the opening to his fourth ventricle, essentially shutting down his body functions.
Dr. Saratsis said it was not clear from the original MRI if Caleb's tumor was benign, or if it had spread to the spine, or if it was still fully encapsulated. If it had not spread there was a good chance it could be removed. Everything was speculation at that point, but we saw a glimmer of hope and chose to focus on that.
She ordered 3-D MRI with contrast to get a better view of the tumor, the brain and the spine. If everything looked good, Caleb would head to surgery in less than 36 hours. First, a hole would be drilled in the top of his head to insert a tube through his brain to control the flow of his cerebral fluid. Then Caleb would be flipped over and they would make a 7 inch incision through the muscle on the back of his neck and head. A portion of his skull would be cut out and then the tumor and capsule would be removed from behind a brain lobe. The entire surgery would take about seven hours. It was a good plan.
Day 1 at the Hospital
We spent the rest of the day playing with Caleb. He wasn't allowed to eat before the MRI, and he was getting very hungry. Greg and I had no appetite and we hadn't slept in two days. So much of that day was spent in a haze. My parents arrived that afternoon, my brother Matt and sister-in-law Susie cut their vacation short and flew to Chicago. My sister Patty, who was also on vacation, re-routed herself to be with us and Caleb. One of Caleb's best friends, Isaak, came to visit with his family. They decorated his room and provided some much-needed relief and smiles.
Numerous balloons, toys and stuffed animals arrived, which brightened his room even more. Jacqueline London sent a huge stuffed dog that Caleb slept with each night. He loved all these surprises. Throughout the day friends and colleagues called and texted. At one point I had to put my phone away because just answering everyone became overwhelming. I had sent notes asking for help from friends, prayer warriors and prayer circles. I knew in my heart each of the many prayers would make a huge difference in the outcome ahead.
Tammie Souza Shares Son's Brain Tumor Warning Signs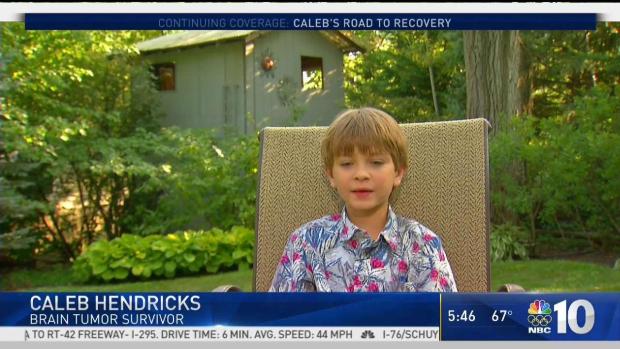 As the day wore on, Caleb's headaches returned. He was so hungry and the medicine made him feel sad. At one point he looked at me and said, "Mommy, I'm so sorry I got sick and kept you and Daddy awake all night." My heart broke and it was all I could do not to cry. I just hugged him and told him not to apologize; we love him more that the sun and moon and stars and it's our job to take care of him. That's when Greg and I decided it was time to make this tumor something Caleb could relate to.
He loves Transformers – he can name them all and has an impressive collection. His favorite: Optimus Prime, of course. If you know about Transformers then you will understand this next part. We told Caleb the tumor was like bad energon (the life source of Transformers) and the surgeon needed to remove it ASAP or he would become a Decepticon. We even bought a beautiful marble to give him after surgery as a symbol of the tumor.
By 9 p.m. Caleb's headaches had worsened, he hadn't eaten in 24 hours waiting for the MRI and tears rolled down his cheeks because he was so hungry. Finally, they came to get him for the MRI. He was given a light anesthetic to remain still during the one-hour procedure. Afterward, he slept. We did not.
Day 2 at the Hospital
As the sun rose that morning, Greg and I realized it had been 56 hours since either of us had slept. We were still waiting for the MRI results and those early hours were the last quiet moments we would have for several weeks. Caleb woke up happy and smiling. He picked at his breakfast and we played. My parents, brother and sister visited and we took Caleb for a walk around the hospital.
It was built specifically for children and families. There are large fish aquariums, gardens, a piano and music area overlooking the city, giant play rooms with views of Lake Michigan, a floor with a full-size fire truck, and sports rooms sponsored by the Cubs, White Sox, Bears, Bulls, Fire and Blackhawks. Many of the athletes visit the hospital daily.
Each floor of the hospital is a specific animal. Caleb wanted the tiger floor, but that was the MRI floor, and we were the flamingos on Floor 19. Each hospital room is private, so although the floor was full of children battling life-threatening conditions we saw very few of them.
Late that morning Dr. Saratsis stopped by to discuss the results of the MRI. Caleb's tumor did appear to be encapsulated and there was no sign of spreading to the spine. The surgical plan was a go at dawn.
We were very honest with Caleb and explained what was happening and why he needed the surgery right away. Dr. Saratsis even talked with him about everything she would do. Caleb asked two questions: Would it hurt? And, will the headaches stop? She told him he would be asleep and feel no pain and there would be no more headaches. He literally took a beat, looked at all of us, smiled and said, "OK." That was it … no tears … no complaints … no other questions. Just "OK."
Tammie Souza's Shares Son's Battle After Brain Tumor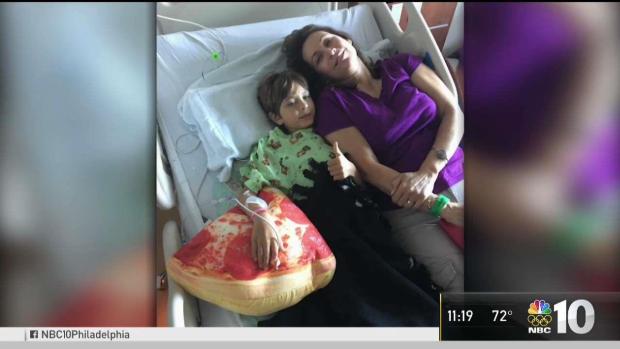 I promised Caleb anything he wanted for dinner that night. He chose crab legs. I attribute that to my sister-in-law, who loves crab legs and turned Caleb on to them at an early age. I had my second wind and set out in search of dinner. By the time I returned with the crab, Caleb's headaches had returned. He was groggy from the extra pain medicine and had no appetite for dinner. I felt so bad. Things were changing quickly and I failed to give him his wish.
Caleb's headaches were happening more frequently. A few hours later he turned to me and whispered, "Mommy, what if I don't wake up from surgery? I'm afraid."
I was afraid too, but in that moment I chose to make a promise that would haunt me hours later. I looked him in the eyes and guaranteed everything would be fine and he would wake up.
Then There Were Angels
It had been hot in Chicago -- no surprise for late July. The skies were clear and it was a muggy night in the low 80s. My parents left for their hotel a few hours earlier. They would wait for our call to come back in the morning when Caleb was heading to surgery. The room was dark and quiet except for the constant alerts from the monitors at Caleb's bed. Strangely those consistent beeps were a comfort to us.
Greg and I were both exhausted and a little loopy. That's when Greg started staring out the window. I asked what he was looking at and he said, "Snow." I didn't know what to say. It was clear and muggy and 80 degrees out. I didn't see a thing. Greg pointed and said, "Look at those white waves in the air moving up and down." I made him sit down and shut his eyes. Then he stood up and said, "Don't you see it?" He pointed out the window and described a flowing sea of white waves like doves or the wings of angels.
It was at that moment the first of the alarms triggered on Caleb's monitors.
The Crisis, the Collapse and the Code
Caleb's headaches had accelerated to a dangerous rate. Paige, his pediatric nurse, was in and out of the room constantly. His heart rate would soar to 100 and then dip to 38. It was as if he would relax into a brief sleep and then less than a minute later the headache would wake him up and his heart would race. Greg and I were very worried. Caleb was doing breathing exercises to control the pain. They had given him the maximum medication allowed and the headaches were worsening.
At one point Greg asked if this could kill him. The resident on call said no, this was common with this type of tumor. At that moment I should have screamed "BULL." I was sleep deprived and blame myself for the pain Caleb endured over the next six hours.
The nurse was also concerned and was in contact with Dr. Saratsis who had been monitoring Caleb all night. What we didn't know is he was deteriorating so rapidly that surgery was moved up and the OR was being prepped.
At 5 a.m., Paige told us they were coming to get Caleb and we needed to be ready. There were papers to be signed and one of us was constantly holding Caleb during these headaches. I was starting to panic. This was not the plan we had discussed. Caleb was in a full-blown emergency.
Then as the team was wheeling in the gurney, and Greg was grabbing our things, Caleb let out a primal scream that I will never forget. It was like a wounded animal and came from such a deep place. Then he went limp. His heart raced to 168 and all signs stopped.
Paige hit the Code button and before I could react there were 30 doctors and nurses in his room and the hallway. I was calling Caleb's name, Greg was gently rubbing his sternum and then my head started spinning. I was crying and angry and confused. How did this happen in 36 short hours? This tumor was operable and now he was dying before surgery. This was my fault. I needed to be that pushy mom I always was.
Nothing seemed real. We waited our whole lives for a child. He was awesome and loving and perfect. I was praying and yelling and living in some other world at that point. Paige grabbed me and hugged me and said, "He's not going to die."
They started to resuscitate him and placed a new IV. His tiny face was covered by an oxygen mask. We kept calling his name, but his eyes wouldn't open. They gave him medication to shrink the fluid on his brain and then slowly, after minutes, his eyes fluttered.
I called his name but his eyes were blank. I was certain there had to be brain damage.
I spotted my parents in the hall. Why were they here? We hadn't called them, and it was still pre-dawn. They were sobbing and hugging each other. Later my dad told me they woke up sensing Caleb needed them and they came to the hospital immediately without knowing what had happened.
That's when the hall was cleared and we all ran with Caleb's bed to the elevator and down to surgery.
It was surreal, like a TV drama. There was shouting as we were running and pushing the bed. It slammed the walls as we turned the corners. After what seemed like an eternity we reached the operating room. Greg and I were still trying to get a response from Caleb.
I was quizzing him: "Who are we? And what is your dog's name?" That's when Caleb opened one eye and said "Mom! It's Hawley." My heart jumped. He was pissed and tired of the questions and of course he knew who his dog was.
Caleb was still in there and fighting, but he was so weak from a night of headaches every minute. I turned to the anesthesiologist and asked if he was strong enough for surgery. Remember, I had promised he would wake up and now I was terrified he would not.
She answered honestly: "We have no choice."
That was not what I wanted to hear. I started looking around for Dr. Saratsis. The room was full of activity, and out of the corner of my eye I saw her running toward me. She grabbed Greg and I, looked at us and said "Let me do this. I have to relieve the pressure on his brain so I can get him back to you. Trust me."
She was so clear and confident and a mom herself, so we stepped back and said "Go, do it."
They grabbed Caleb's bed and I was sobbing. His eyes were half closed and I was shouting "I love you Caleb."
Then the doors closed and he was gone. I never thought I would see him again.
The Wait
After the doors closed we just stood there. I couldn't move. My brain was in free-fall. Someone walked us to the special family waiting area. Greg and I sat across from my parents in silence.
There were two chaplains assigned to us. They were lovely ladies and for most people that would have been a comfort, but for me they represented impending death. They asked if we would like to pray and we did. Then they brought us water and blankets. I curled into a ball facing the wall and cried.
Caleb has brought such joy to our lives and we have never taken that for granted. We love spending time with him, playing with Transformers, Legos, dinosaurs and Lightning McQueen (We must have watched Cars 50 times). He loved fishing, baseball, soccer, dancing and singing. Images flooded my mind of the last time we baked his favorite cookies, the campouts in our back yard, learning to ride his bike and watching every playoff game and the World Series together. Each age was better than the last and I couldn't wait to see the man he would become some day.
But now he might not even see his ninth birthday.
I watched every nurse and doctor walking by, trying to remember if they were part of Caleb's surgical team. There was no chaos in the halls; was that good or bad? I was getting lightheaded. There was tingling in my fingers. Was this shock? Greg told me he was nauseous and left for the restroom.
About 90 minutes had passed and I was standing in the hallway alone. I shut my eyes and quietly said, "Please, just give me a sign."
Prayers Answered
When I opened my eyes, I could see the top of a blue scrub cap bobbing up and down as it came toward me down the hallway. The person under the cap was texting, and it took a second for me to realize it was Dr. Saratsis. She looked up at me and I tried to read her body language. Was it good news, bad news … what?
Then she smiled and I knew: He was alive! It was a miracle! We watched him slip away. But through the grace of God, a multitude of prayers and these amazing doctors and nurses, Caleb was alive!
"He's great," she said. "He's stable, we relieved the fluid on his brain and he is being prepped to remove the tumor."
I hugged her and I hugged the surgical nurse with her and I hugged Dr. Brian Rothstein, the visiting fellow who was also on Caleb's team. I couldn't stop hugging everyone. Prayers were answered. Caleb was tough and he wasn't quitting.
My dad walked into the hall to see what the commotion was, and I remember screaming, "He's alive, he's good." Then my mom and Greg ran out to join us and we all started crying and hugging.
The Seven-Hour Surgery
Greg and I felt hope again. Now, he just had to get through the next seven hours of surgery. No small feat, given this was brain surgery. Adrenaline began to give way to exhaustion and we allowed ourselves to doze for the first time in three days.
As the hours wore on, I reached out for prayers. The response was overwhelming. Messages poured in from family, friends, neighbors and colleagues in Philadelphia, Chicago, Tampa, California, Arizona and Oregon. Those prayers are what helped Greg, Caleb and I through the crisis. I will never be able to repay the outpouring of love and support we received from all of you.
The morning was spent watching an electronic board that listed the location of each surgical patient with a number. Caleb was still listed in surgery. That surgical list dwindled as other patients were moved to recovery and eventually their hospital rooms. A surgical nurse would call every few hours with updates. Caleb was a champ, doing well and holding his own, but we had no details about the tumor and its removal.
Finally, by early afternoon we got the call; they were done. He was headed to recovery and Dr. Saratsis would be out to speak with us shortly. They wouldn't provide details and all I could think was, "Please God let the surgery have been a success. No more surprises."
We were waiting in the hallway when Dr. Saratsis and Dr. Rothstein arrived to give us the news.
The Outcome
I went from having the worst moment of my life just hours before to having the best moment of my life. Dr. Saratsis told us they were able to remove all of the tumor and the entire capsule surrounding it. That is important because the chances of recurrence are much lower if the capsule is fully removed. It was the best outcome we could have hoped for.
This must be how it feels to win the lottery. The odds are stacked against everyone, but yet someone wins. Caleb was that winner.
We were escorted to the recovery area and for the first time in nine hours I saw my baby. He was asleep and his color was good. There was a new tube leading out of the top of his head and his hair … wait a minute … he still had a full head of hair. How was that possible?
I had told Caleb they would shave his head for surgery. He actually liked the idea. Now I was staring at a full head of hair. I remember asking the nurse if they had really removed the tumor. She smiled and told me they avoid shaving a child's head whenever possible. She showed me the 7-inch scar on the back of his head and explained the tube on the top of his head was to drain his cerebral fluid since his body was not able to do that yet. A week later, he would be put through several days of challenging his ability to drain the fluid. If he succeeded, they would pull the tube. If not, he would require a permanent shunt from his brain to his stomach.
As for results on whether the tumor was malignant or low grade and basically benign … we would have to wait a week.
Awakened
Back in his room that evening Caleb was awake and talking. He seemed more like his old self. It felt so good to hold his hands and touch his face. I asked if there were any more headaches and he smiled and said no, but his neck did hurt. That seven-inch incision on the back of his head went through the muscle in his neck. Beneath that a large part of his skull was cut out and later reattached with titanium straps and screws. Caleb was told to turn his head side to side every hour to loosen the stitched-up muscle. He hated those exercises, but again he surprised us by using breathing exercises to work through the pain.
Dr. Saratsis stopped by to show us photos of the surgery, including the open cavity revealing his brain, the tumor, the straps on his skull and all the stitches. We shared some of this with Caleb. In typical little boy fashion he was fascinated. He thought it was awesome and he loved how the titanium straps on his skull looked like a Transformer symbol. It was his ultimate dream: to be a Transformer.
That night we actually got a few ZZZs between the nurses checking Caleb every hour and us just staring at him. Those few ZZZs would be much-needed over the next two weeks.
The Recovery
The next day my siblings Matt, Susie and Patty arrived. They spent hours visiting with Caleb and providing Greg and I with a much-needed distraction.
At that point Caleb was still on pain medication and steroids to prevent swelling in the brain. A new MRI revealed his brain had moved back into the space formerly occupied by the tumor, just like a sponge fully opened. It looked good.
Because of that tube in his head we could not take him off the 19th floor to visit the all-important 12th-floor play area. He missed the animals from the Shedd Aquarium and the White Sox players. He was hoping Cubs players would be visiting since Anthony Rizzo was a patient at Lurie Children's Hospital when he battled his illness and now has donated an entire area for children. But the Cubs were on a road trip.
After a few days we started walking the halls on the 19th floor. Each time the nurse had to adjust the level of the fluid draining from his head and each time we had to walk with IV stands and monitors and a wheelchair in tow.
His friends started visiting daily, and each time they left he cried. They really lifted his spirits. Caleb was also very emotional at times. He would miss everyone when they left and constantly apologized for inconveniencing everyone.
The Parade
Greg and I adjusted to living in that hospital room for two weeks. We slept on a recliner and a bench under the window. We showered in his bathroom, dressed quickly and visited the cafeteria each day. I will say they have great food at that hospital. Hats off to the chef.
We were not prepared for the daily parade of visitors to Caleb's room. Early on we learned to get up, be showered and dressed before the doctors made rounds. Meeting them once in our jammies was all it took.
The day typically started with doctors at 7 a.m., nurses every hour, hospital representatives, counsellors for Greg and I, counsellors for Caleb, Glenda the chaplain, the music lady, a therapy dog to lift his spirits, the occupational therapist, the physical therapist, a magician, an artist, family, friends, the doctors again, a lady who reads stories, someone that dropped off games and the cleaning crew. I didn't have time to use the restroom between visitors. We were relieved when the weekend rolled around and there were fewer visits.
Each day Greg and I seemed more exhausted, but each day Caleb was getting stronger and his appetite was returning. He was eating five meals a day! He loved the hospital food, but was craving double stuffed ravioli, white mac and cheese and crab legs since he never got to eat the ones that were promised before his surgery. By the end of the week I was running all over Chicago's Loop for food.
During one of those food runs I made an illegal turn. Sure enough there were lights in my rear view mirror. I told the CPD officers to write me up, my fault entirely. I needed to get the food back to my son at the hospital. I looked like a mess with wet hair, dark circles under my eyes, mismatched sneakers and yoga pants. They asked about Caleb and shared stories about their kids. I waited for them to write my ticket, but instead they told me to go take care of my son. It was an act of kindness I will always remember.
The Results Are Back
We still were not sure whether Caleb's tumor was benign. Initial results finally came back on the fifth day after surgery and it was good news: a low grade glioma, which is considered the most benign of all brain tumors. We gave thanks to God and I could feel my joy returning.
Caleb would not need radiation or chemotherapy, but he would need a follow-up exam and MRI every three months to check for recurrence or anything else unusual. He will require these periodic exams for the remainder of his life, but it is a small price to pay for beating a brain tumor at the age of 8.
We celebrated and ordered pizza and watched the baseball game. It was a good -- no, make that a great -- night! Sadly these stories don't end well for all children, something we learned a few days later.
The Little Girl Next Door
During the second week there was an influx of visitors to the room next to Caleb's. A sign went up on that door asking not to knock or make noise. There was hushed talking and silent crying as everyone exited. I was heartbroken for that family. Caleb asked what was happening. I told him there was a very sick little girl next door. He asked that we pray for her and her family. I know he expected she would recover like he did, but she did not. The halls were closed off and everyone was asked to stay in their rooms as the covered gurney wheeled her away. That was a sobering night for all of us. I guess that is what survivors' guilt feels like. It was awful. I never did tell Caleb she lost her battle with a tumor.
The Side Effects and the Challenge
Caleb was still wobbly that second week and he struggled with his motor skills. His vision was fine and memory intact, so we counted our blessings. Each day the therapists arrived to work with him and slowly he improved. His weight was also improving, up four pounds.
It was day nine in the hospital and time for Caleb to challenge his ability to drain the excess cerebral fluid from his brain without the tube. We were nervous because he would need a permanent shunt inserted from his brain to his stomach if his body could not handle the reabsorption of cerebral fluid.
That day Caleb did not do well. He complained of headaches and threw up. Of course, alarm bells went off for Greg and I. This was a repeat of what happened with his brain tumor. Was there a brain bleed? Was the fluid pressure too great?
Caleb was whisked off for a quick MRI which revealed everything seemed fine. They would wait a day and then try the challenge again. Many people live perfectly normal lives with permanent shunts, but we hoped Caleb would not need one.
On day 11, Caleb was challenged again and did well. They upped his challenge on day 12 and on day 13 they clamped his brain tube. He needed to drain his own fluid over the next 24 hours without help from the tube. If successful, the tube would be removed and he would be able to go home the next day. He did it!
That Final Day
We heard the Shedd Aquarium was bringing penguins to the 12th floor children's center. Caleb really wanted to see them, but he couldn't leave his floor until the cerebral fluid tube was removed. Later that morning, Dr. Saratsis and a small team of nurses, along with a social worker (to distract Caleb), took him to a surgical room on his floor and removed the tube. It was a quick procedure and when they emerged I found out Caleb had promised to bring them dozens of his favorite cookies, the best in the world according to him. That was a promise we intended to keep.
Then it was off to see the penguins and play on the 12th floor. Accompanying us was Glenda Spearman, the senior chaplain at the hospital. Despite my resistance during the crisis and surgery, I was grateful she had been there with her calming presence, grace and humor each step of the way. Her daily visits and prayers were one of the best parts of our day, so it seemed fitting she would be there on our last day.
Discharged at Last
Two weeks after Caleb was checked in to the hospital he was ready to go home. He had been weaned off the pain medication and steroids earlier in the week. He was still wobbly, but able to walk and he wanted to go home to his dog, his friends, the neighborhood and his own bed.
It was about 3 p.m. when Dr. Saratsis gave the thumbs-up for his discharge. After some last-minute paperwork and many, many hugs good-bye we packed up room 1904 and headed for the car. What a wonderful feeling.
The world had been at a standstill for the two weeks we lived in that hospital room. I hadn't heard any news outside that room and honestly wasn't ready to get caught up. Everything that really mattered was in that car and headed home.
At Least it's Not a Brain Tumor and Other Lessons I Learned
Caleb has a new saying that he reminds us of every day: "At least it's not a brain tumor."
When we've had a rough day, when traffic is bad, when the sewer pipe broke in our house … hey, just remember … "at least it's not a brain tumor."
Our perspective on life has changed drastically since July 21, 2017 when our son was diagnosed with a brain tumor.
Yes, there was a miracle against enormous odds. There were so many little signs and moments that can't otherwise be explained. There were angels; Greg saw them outside the hospital window and I saw one in the petite, blonde form of Dr. Saratsis whose amazing surgical skills saved his life.
There were so many things could have gone wrong and ended Caleb's life. At the same time, everything had to go perfectly to save it. Yes, this was a miracle that I will give testimony to for the remainder of my life.
I have learned children are far more resilient that adults. Caleb's recovery has been fast. He still has a lifetime of re-checks and some work on motor skills, but he beat the odds. If it were me, I would probably still be lying in that hospital bed at this point.
Caleb was courageous and polite under excruciating pain and through a situation no one wants to be in. He was kind to everyone, said please and thank you even during the tests and taught Greg and I how to be better humans.

As parents, Greg and I feel immense guilt that we did not insist on an MRI sooner and that we let the headaches continue more than once before having him checked. We got busy in our lives and that almost cost Caleb his. We are his advocates and his protectors. He was within minutes of death, and if I had followed my "mother's instinct" that told me this was a brain tumor or something equally as serious the emergency could have been avoided.
Children should never have violent headaches followed by vomiting and deep sleep with no fever. There are subtle signs, as I wrote in an earlier portion of my blog. There are dozens of different types of brain and central nervous system tumors, and, according to Children's Hospital of Philadelphia, nearly 4,000 children will be diagnosed with a rare tumor like Caleb's this year. Parents, know the signs and have your child checked if your instincts tell you something is wrong.
More research needs to be done on pediatric brain tumors. Children are not the same as adults. There are distinct differences between their brain tumors and the ones in adults, and children react differently to the treatments. This field is underfunded and we can help spread the word for more help.
From the bottom of my heart I want to thank you for reading all of Caleb's story. It has been difficult to re-live, but worth it if another child can be saved. Please share his story with all parents.

I would love to hear from you about your tumor story. We need to support each other and shine attention on more research for pediatric brain tumors.
Please see the links at the bottom of this blog for more information and ways to donate toward pediatric brain tumor research.
Acts of Kindness for the Children
Each day during Caleb's stay, someone would stop by to offer him toys and craft projects. They always went out of their way bring items that interested him. We were so grateful for these gestures that I wanted to donate some new toys back to the hospital.
I walked down Michigan Avenue and wound up at Galt Toys store. I picked out a half dozen toys for the hospital and headed to the counter. The manager's name was Michael Elmore and we started chatting about who the toys were for. I explained they were for kids at the hospital where my son was. He looked at my pile of toys and asked me to wait while he grabbed a few more things for me.
I didn't what to say when he returned with stack after stack of toys. I couldn't afford all of these toys. He just smiled and told me they were a gift to the children at the hospital. I almost fell over. In front of me were four large bags of toys. Without being asked, this kind man chose to brighten the days of dozens of children who spend weeks on end in their hospital rooms. Back at the hospital everyone was stunned and thrilled by the number of toys he had donated.
Another deep act of kindness came via friends Brant and Lisa Miller. Like many of our friends, they offered support and wanted to send Caleb a package.
It turns out that package held dozens of amazing toys which Caleb loved. One of the items was a triangle pillow that looked like a piece of deep-dish pizza and was filled with micro beads. It was soft and squishy and Caleb loved resting his arm on it. The doctors and nurses loved that pillow too.
I decided these pillows were so comforting I should order some for other children at the hospital. Lisa told me the pillow came from her daughter-in-law Gretchen who owned a toy store named The Wild Child in Glencoe, Illinois. So I called Gretchen to order more pillows. Next thing I know she has rounded up 30 new, colorful pillows shaped like gnomes and rubic cubes and eggs and sushi and unicorns and practically anything a child would love. Back at the hospital, each doctor held their favorite pillow for a group picture.
---
Meet Caleb's Doctor
Dr. Amanda Saratsis, Lurie Children's Hospital of Chicago

Brain Tumor Research at Lurie Children's Hospital
Children's Brain Tumor Tissue Consortium (Lead by CHOP)

Donate to Lurie Children's