Firefighters honored 19 colleagues including a Pennsylvania native during a memorial service Tuesday that included a standing ovation -- both inside and outside the building -- for the lone surviving member of the Granite Mountain Hot Shots crew, 19 members of which were killed in a desperate fire fight on a central Arizona mountain.
Read: Worst Firefighter Tragedies | How to Help: Donate to Firefighters' Families
Thousands of mourners attended the memorial service for the firefighters who died June 30 when they were over-run by a wind-whipped wildfire northwest of Phoenix.
One of the firefighters remembered was Bucks County native Robert Caldwell. The 23-year-old was born in the area and lived in Richboro, Pa. until moving out west with his family about 18 years ago. Despite the move, his family says he remained a loyal Philly sports fan who would come back for games.
Caldwell's father told NBC10 last week that he was "extremely proud" of his son.
"Robert died doing what he loved doing," said Dave Caldwell. "He took great pride in what he did."
The service included a prayer read by the lone surviving member of the Caldwell's Granite Mountain Hot Shots.
"I miss my brothers," said 21-year-old firefighter Brendan McDonough, who received a standing ovation from those inside the building and in an outdoor overflow seating area. "Thank you for supporting me."
Organizers set up a large monitor outside Tim's Toyota Center in Prescott to accommodate the overflow crowd. About 30,000 people had been expected to attend the service.
"I saw joy in the hearts of each one of them when they were doing their jobs," said Prescott Division Fire Chief Darrell Willis. "I take comfort in the fact I would have followed them blindfolded. They brought everything to the table"
Willis and other members of the firefighting community spoke in front of a large U.S. flag. Poster-sized images of the 19 firefighters were lined in front of the speaker's podium.
In front of the pictures, the crew members' uniforms, boots, hand tools and helmets were placed in a row.
"What happened on Yarnell Hill is still raw," said Prescott Fire Chief Dan Fraijo. "Even so, I can assure you our people will keep their heads up high. If I could fulfill my fondest wish, it would be that my tears wash away the pain that we all feel.
"I was proud to be their chief."
An honor guard presented the victims' families with U.S. and Arizona flags. The families also were presented with bronze firefighting hand tools, a nod to the Pulaski tool commonly used by wildland fire crews to construct firebreaks.
The firefighters, members of the Granite Mountain Hotshots crew, were killed June 30 as they fought a 13-square mile wildfire near the community of Yarnell, Ariz. The wind-whipped fire marked the deadliest wildland fire since 25 firefighters were killed as they fought the 1933 Griffith Park fire.
Dan Bates, vice president of the local firefighters association, said the men were protecting a community they loved. The men not only fought fires, but cleared defensible space to protect homes, developed community disaster plans and trained other firefighters.
"Protect us they did, not just June 30, but for many years and in many ways," Bates said. "Anything Prescott need, anything Arizona needed, these Hot Shots stepped up."
Vice President Joe Biden and Arizona Gov. Jan Brewer spoke at the service.
"To the Yarnell 19, we will never forget your sacrifice and that of your families," said Brewer, who thanked President Barack Obama for his "kind words" and assistance.
Residents of Prescott Valley and other visitors have left flowers, notes and other items along a fence near the Prescott Fire Department since the deadly June 30 fire fight. Firefighters brought shirts from fire departments represented at the memorial to add to the memorial.
Nineteen hearses, each accompanied by an honor guard, transported the firefighters' bodies Sunday from the medical examiner's office in Phoenix to Prescott as people -- many from the community the firefighters died trying to protect -- lined streets and waved American flags.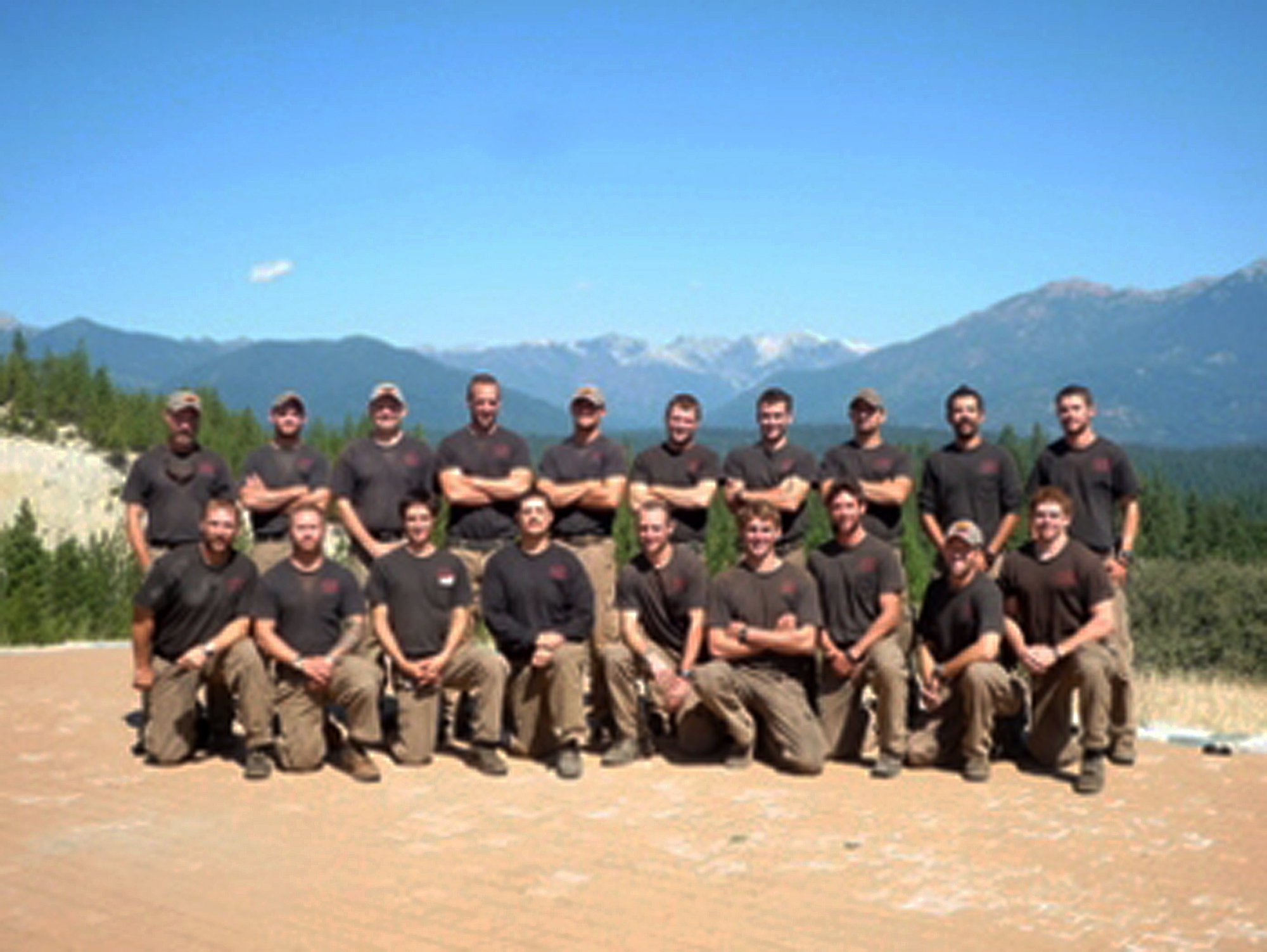 Most of the victims were in their 20s.
The victims were identified as Caldwell, 23; Anthony Rose, 23; Eric Marsh, 43; Clayton Whitted , 28; Scott Norris, 28; Dustin Deford, 24; Sean Misner, 26; Garret Zuppiger, 27; Travis Carter, 31; Grant McKee, 21; Travis Turbyfill, 27; Jesse Steed, 36; Wade Parker, 22; Joe Thurston, 32; William Warneke, 25; and John Percin, 24; Kevin Woyjeck, 21; Chris MacKenzie, 30; and Andrew Ashcraft, 29.
"Firefighting was not what they did, it was who they were," Biden said. "There's a long history of ordinary Americans doing extraordinary things."
Another tragedy that cost the lives of firefighters as recalled at the memorial.
"Aside from 9/11 this is the largest firefighter tragedy in the history of the fire service," said Capt. Tom Richards, of the Los Angeles County Fire Department. "To honor these firefighters is something the guys and ladies needed to do."
The service closed with the reading of the victims' names, each followed by the ringing of a bell. McDonough then read the Hot Shots -- the name comes from Granite Mountain, located in central Arizona's Yavapai County -- prayer, which ends with the words, "For if this day on the line, I should answer death's call, Lord, bless my hot shot Crew. My family, one and all."
Published at 9:53 AM EDT on Jul 10, 2013 | Updated at 9:59 AM EDT on Jul 10, 2013