Here are the top news stories you need to know to start your day from your friends at NBC10.
---
TODAY'S TOP STORY
Woman Dies After Being Pushed Out of Car: A woman who was pushed out of a truck in Philadelphia and then hit by an SUV has died, police said. The woman was riding as a passenger in a Ford F-150 in the Kensington neighborhood of Philadelphia at about 1:50 a.m. Sunday when someone shoved her out of the pickup truck. She tried to cling to the door, but fell off and was hit by a black Dodge Challenger, police said. Officials are looking for the vehicles and drivers involved in the crash, as well as surveillance video. Police say the truck is silver and has a tailgate missing and a sticker on its back window. The woman's name was not immediately available but police believe she was 30-years-old. They are investigating her death as a murder.
WHAT YOU MISSED YESTERDAY
Firefighter, Volunteer Santa Loses Home in Fire: A Northampton County firefighter, who was set to dress up as Santa Claus to deliver presents to kids, lost his home in a fire that also damaged two other properties. The two-alarm fire started at a duplex on the 1500 block of Washington Street in Wilson Borough Sunday morning and spread to another home as well as a business. The sound of screaming and heat from the flames woke up Salima Kaushial. Flames from the fire melted siding and parts of a nearby car. A man and a responding firefighter both suffered burns to their hands. The fire also destroyed the home of Charlie Wacik, a firefighter who is set to retire in a few months and who also planned on volunteering as Santa Claus Sunday to deliver gifts to children on a firetruck. Those plans were canceled due to the fire.
YOUR FIRST ALERT FORECAST
Monday is expected to be partly sunny with temperatures in the 40s. Morning rain and snow showers are possible for Tuesday morning. Wednesday is expected to be very cold with wind chills in the teens. Thursday is expected to be similiar with temperatures in the teens. There is a chance of snow on Friday. Get your full NBC10 First Alert forecast here.
First Alert Weather: Bundle Up, It's Cold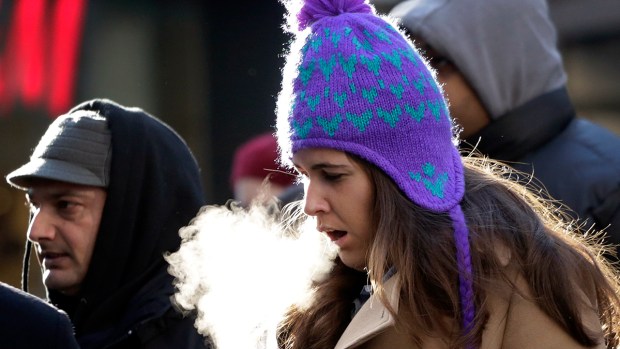 Eagles Fear Wentz Suffered Torn ACL: Carson Wentz's day was cut short. The Eagles hope there's not more bad news coming. The Eagles' quarterback left Sunday's win over the Rams at the LA Coliseum late in the third quarter with a knee injury. The Eagles announced he would not return. The Eagles fear that Wentz has a torn ACL, a team source confirmed. Wentz will have an MRI on Monday. ESPN's Adam Schefter first reported the possibility of a torn ACL. A few plays before Wentz hit Alshon Jeffery for a two-yard touchdown pass on 4th-and-goal, he took a pretty hard shot as he dove into the end zone on a touchdown that was nullified by a penalty. After the drive, Wentz went to the sideline to be evaluated in the blue medical tent. He was then walked into the locker room and did not return.
AROUND THE WORLD
GOP Rushes Tax Bill Ahead: Start the countdown clock on a momentous two weeks for President Donald Trump and the GOP-run Congress. Republicans are determined to deliver the first revamp of the nation's tax code in three decades and prove they can govern after their failure to dismantle Barack Obama's health care law this past summer. Voters who will decide which party holds the majority in next year's midterms elections are watching. Republicans are negotiating with Democrats on the contentious issue of how much the government should spend on the military and domestic agencies to avert a holiday shutdown. An extension of the program that provides low-cost health care to more than 8 million children and aid to hurricane-ravaged Puerto Rico, Texas and Florida need to be addressed. And further complicating the end-of-year talks is the fate of some 800,000 young immigrants here illegally. Lawmakers are trying to get it all done by Dec. 22.
---
That's what you need to know to Catch Up Quickly, but we've got more stories worthy of your time. Click here to check them out.

Published at 6:50 AM EST on Dec 11, 2017 | Updated at 6:45 AM EST on Dec 11, 2017