Here are the top news stories you need to know to start your day from your friends at NBC10.
---
TODAY'S TOP STORY
2 Dead in Multi-Vehicle Crash in Horsham: Two people were killed in a multi-vehicle crash in Horsham, Pennsylvania Tuesday night. The crash, which involved three vehicles, occurred on Easton Road and West Moreland Avenue around 6:30 p.m. Two people died in the crash. Officials have not yet revealed their identities. Rain and sleet from a nor'easter set to bring heavy snow to our area Wednesday was falling across the region at the time of the crash. It's not yet confirmed if the weather played a role in the crash.

WHAT YOU MISSED YESTERDAY

Gunman Inside Restaurant Across Princeton University Fatally Shot by Police: An armed man who holed himself up in a restaurant across the street from Princeton University for hours is dead after being shot by police, officials say. The New Jersey attorney general's office says the man, armed with a shotgun inside Panera Bread, entered the building at around 10 a.m. Tuesday, prompting customers and workers to flee. Police responded and secured the area, and attempted to negotiate with him for several hours. The standoff ended around 3 p.m. when the man was fatally shot by police. The man was pronounced dead at the scene. No other injuries have been reported.

YOUR FIRST ALERT FORECAST
Wednesday morning the wintry mix is expected to become heavier with more snow. Wind gusts are expected for Wednesday. By noon Wednesday a significant amount of snow is expected to be on the ground. The snow is expected to move out late Wednesday night and into Thursday morning. Get your full NBC10 First Alert forecast here.
NBC10 First Alert Weather: Don't Be Fooled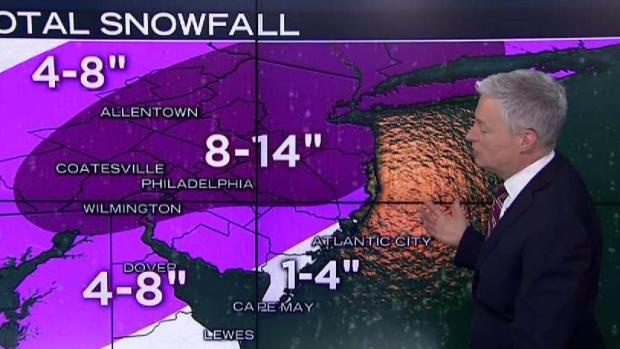 Couple Charged After Baby's Body Found in Home's Crawl Space: Authorities have charged a Pennsylvania couple after finding the body of their 6-month-old baby in a crawl space of their residence. Officials in Berks County said a tip from a family member about the welfare of the baby led officers to an apartment in Spring Township late Monday night. They found baby photos and used diapers in a locked bathroom. In a crawl space, authorities said, the body of a baby believed to be Harper Trump was found in a trash bag in a large plastic container of cat litter. The baby's parents, 25-old Shaun Oxenreider and 27-year-old Samantha Trump are charged with concealing the death of a child, abuse of a corpse and conspiracy. Court documents don't list attorneys representing the defendants and working numbers for them couldn't be found Tuesday.
AROUND THE WORLD
Austin Bombing Suspect Killed After Detonating Bomb: The suspect in a spate of bombing attacks that have killed two people and injured four others this month blew himself up with an explosive device as authorities closed in, the city police said early Wednesday. Authorities had zeroed in on the suspect in the last 24 to 36 hours and located him at a hotel on Interstate 35 in the Austin suburb of Round Rock, Austin Police Chief Brian Manley said at a news conference. They were waiting for ballistic vehicles to arrive when his vehicle began to drive away, Manley said. Authorities followed the vehicle, which stopped in a ditch on the side of the road, the police chief said. When members of the SWAT team approached, the suspect detonated an explosive device inside the vehicle, the police chief said. The blast knocked back one officer, while a second officer fired his weapon, Manley said. The suspect, who suffered significant injuries from the blast, was killed. Authorities identified him only as a 24-year-old white man. Authorities said it was too soon to say if the suspect had worked alone. They also said they don't know his motive.
---
That's what you need to know to Catch Up Quickly, but we've got more stories worthy of your time. Click here to check them out.