Here are the top news stories you need to know to start your day from your friends at NBC10.
---
TODAY'S TOP STORY
Suspects in Bucks Co. Farm Slayings Plead Not Guilty: Two cousins charged in the deaths of four young men on a Bucks County farm last summer have pleaded not guilty. Cosmo DiNardo, of Bensalem, and Sean Kratz, of Northeast Philadelphia, appeared at a formal arraignment Thursday to face multiple charges of homicide and abuse of a corpse in the July killings that occurred a few miles from New Hope. At the time of his arrest, DiNardo's attorney said his client gave a "full confession." DiNardo allegedly admitted to authorities that he'd been involved in killing all four men, who were identified as Dean Finocchiaro, 19, of Middletown Township; Mark Sturgis, 22, of Pennsburg, Montgomery County; Tom Meo, 21, of Plumstead Township; and Jimi Taro Patrick, 19, of Newtown Township. His confession, which allegedly included alerting investigators to the location of Patrick's body in a remote part of the 90-acre farm, was given in exchange for an offer from Bucks County District Attorney Matt Weintrab that the death penalty not be sought at trial. Weintrab said after the hearing Wednesday that his office would not press for the death penalty against DiNardo if the defendant cooperates in the case. It remains unclear if that condition applies to Kratz.

WHAT YOU MISSED YESTERDAY
Mom Sentenced to 94 Years in Death of Son: A woman who pleaded guilty to murder in the beating death of her 3-year-old son in a mobile home in Chester County has been sentenced to 42 to 94 years in prison. Thirty-three-year-old Jillian Tait pleaded guilty to third-degree murder, aggravated assault and possessing an instrument of crime in the November 2014 death of Scott McMillan in West Caln Township. Her ex-boyfriend, Gary Fellenbaum was sentenced earlier to life in prison plus 10 to 20 years.
YOUR FIRST ALERT FORECAST
Friday is expected to be cold with temperatures in the teens and 20s in the morning with highs in the low 30s. Snow is expected to fall Friday afternoon into early evening. Between one and three inches is expected. Saturday is expected to see sun and temperatures in the 40s. Sunday temperatures could also reach the 40s. Monday and Tuesday could see temperatures in the 50s. Rain is possible for Tuesday. Get your full NBC10 First Alert forecast here.
NBC10 First Alert Weather: Snow Ahead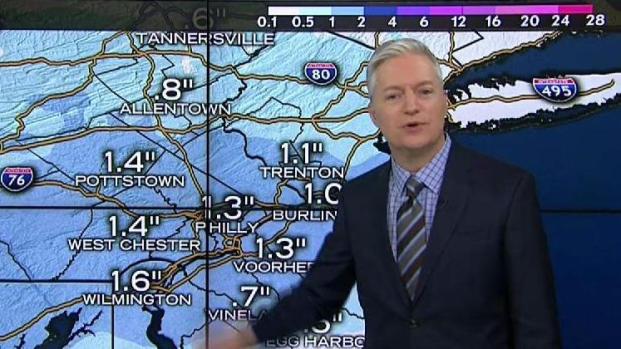 Cow Escapes Live Nativity Twice: Twice in one morning, a cow had to be corralled after escaping from a live nativity scene in Philadelphia's Old City neighborhood. By the end of the morning Stormy the cow was out a job. Stormy darted from the live nativity at Old First Reformed United Church of Christ at 4th and Race Streets around 6:30 a.m. Thursday. The 7-year-old Hereford cow, a Philadelphia native, made its way into a nearby parking structure, where it was corralled in the garage attached to the Wyndham Hotel. Stormy was led with hay down the parking structure and out onto the snowy street. Philadelphia police blocked 4th Street as Stormy was returned to the church, again. Four hours earlier, the 1,600-pound cow left the nativity and wound up along Interstate 95.
AROUND THE WORLD
FCC Votes to Scrap Obama-Era Net Neutrality Rules: The Federal Communications Commission repealed the Obama-era "net neutrality" rules Thursday, giving internet service providers like Verizon, Comcast and AT&T a free hand to slow or block websites and apps as they see fit or charge more for faster speeds. In a straight party-line vote of 3-2, the Republican-controlled FCC junked the longtime principle that said all web traffic must be treated equally. The move represents a radical departure from more than a decade of federal oversight. The big telecommunications companies had lobbied hard to overturn the rules, contending they are heavy-handed and discourage investment in broadband networks.
---
That's what you need to know to Catch Up Quickly, but we've got more stories worthy of your time. Click here to check them out.