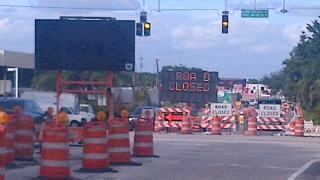 Expect commuting delays next week due to overnight lane closures on Interstate 95 in Philadelphia.
The closures are for roadwork and engineering activities according to the Pennsylvania Department of Transportation (PennDOT).
Northbound and southbound I-95 will be reduced to three lanes north of the Bridge Street Interchange from 9 p.m. to 5 a.m. Sunday through Friday.
The northbound right lane on I-95 between the Girard Avenue and Allegheny Avenue interchanges will be closed from 10 p.m. Wednesday to 5 a.m. Thursday.
The closure are part of long-term construction projects on I-95 and the interchanges.
PennDOT advises motorists to allow additional time for travel delays through work zones.
Published at 10:08 PM EDT on Aug 21, 2014