What to Know
Firefighters battled fire and ice for hours as flames poured from the Overbrook Gardens apartments Monday morning.

Two firefighters suffered minor injuries. More than 50 residents were forced out of their homes.

"We did everything we could to search as many apartments, get as many people out as we could," Fire Commissioner Adam Thiel said.
A massive fire broke out early Monday in a West Philadelphia apartment building, sending dozens of people out into sub-freezing temperatures as firefighters battled the out-of-control flames for hours.
The fire broke out around 2:15 a.m. at the Overbrook Gardens apartments at North 63rd and Jefferson streets in the city's Overbrook neighborhood.
"This could have been a lot worse," Philadelphia Fire Commissioner Adam Thiel said.
Firefighters Battle Fire and Ice at Overbrook Apartments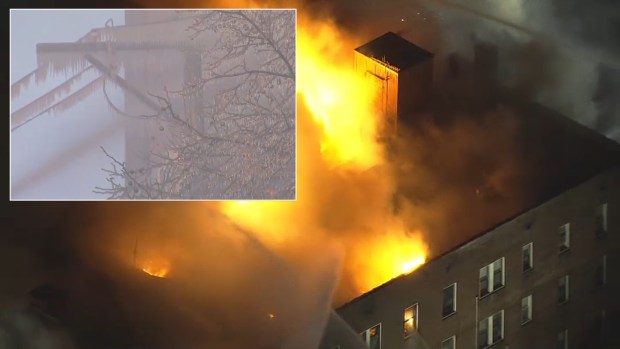 Residents quickly heard alarms blaring and ran out with whatever they could hold, residents told NBC10's Randy Gyllenhaal.
"When I opened up the door I smelled the smoke in the hallway, that's when I knew it was time to get up out of there," said Dwayne Vinson, who grabbed his cat Missy and fled.
Battling Fire and Ice at Apartment Blaze
Firefighters also went door to door making sure the building was evacuated before they also had to evacuate the building due to concerns that the upper floors would collapse.
The fire quickly grew to a five-alarm response, the largest city response and something Thiel called "rare," with more than 180 firefighters working through the morning to bring the fire under control.
Two firefighters were treated for minor injuries and released from the hospital. No other injuries were initially reported.
More than 50 people were displaced from the four-story apartment building. An American Red Cross shelter was set up at the nearby Commodore John Barry Elementary School then West Philadelphia High School for the night. And, SEPTA buses were brought in to keep displaced residents and pets warm.
People Give Back to Help Residents Who Lost Everything in Apartment Fire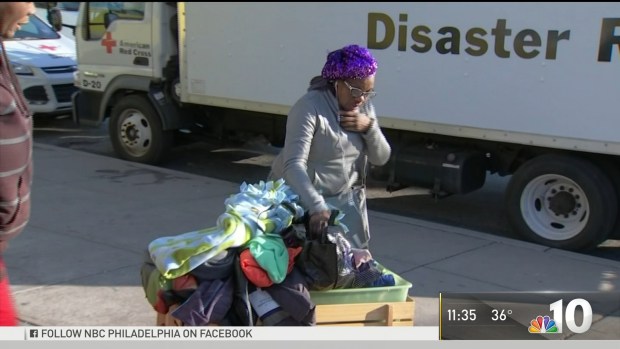 Many residents lost everything in the fire, left only with the clothing on their backs. Good Samaritans showed up to the school delivering clothing, phone chargers and food to the displaced residents.
"If I was to lose everything what could you do," one woman said while dropping off items.
Flames continued to pour from the upper floors of the building as of 6:15 a.m. The Philadelphia Office of Emergency Management asked that people avoid the area and expect traffic troubles.
Ice is forming on cars, trees and roads around the fire. It's freezing cold, tough conditions for firefighters. The blaze has been officially placed under control but crews are still working on hot spots. @NBCPhiladelphiapic.twitter.com/9alLAxkGUV

— Randy Gyllenhaal (@RandyGyllenhaal) December 10, 2018
SEPTA detoured its Route 31 bus service and shuttled Route 10 trolley passengers around the scene.
Ice left by the water used to fight the flames coated firefighters, power lines and other items at the scene. Firefighters were mandated to take shifts battling the flames so that they could warm up, the fire department said.
First Alert Traffic: Massive Fire Closes Roads in Overbrook
Salt trucks were bought in to de-ice streets and PECO crews worked to restore power, which was knocked out to more than 1,200 customers as a precaution, during the firefight.
The blaze was the first to go to five alarms in the city since May, Thiel said.
"Great work by our firefighters... they stayed in there probably longer than we would like, from a firefighters safety perspective... to knock on doors, in some cases, force open doors," Thiel said. "We did everything we could to search as many apartments, get as many people out as we could."
The fire was finally placed under control just before 8 a.m. as some contained flames continued to burn, firefighters said.
"This was a very challenging firefight," Thiel said.
No word yet on what caused the fire.