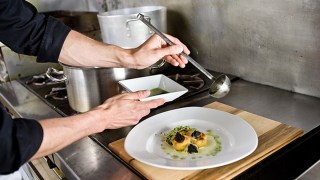 Foodies rejoice! One Philadelphia neighborhood is getting 36 new restaurants over the next three years.
Common Table, a pop-up restaurant incubator, is giving entrepreneurs a chance to test their restaurant concepts for one month in a newly remodeled 44-seat location at 310 S. 48th St. in West Philadelphia.
"We are looking for people who know how to cook and have a passion for food service, but don't necessarily have the know-how or the resources to execute their ideas at the restaurant level," said Della Clark, president of The Enterprise Center, which is running the federally-funded program.
The Enterprise Center, a nonprofit that educates and assists entrepreneurs, is currently accepting applications for Common Table.
To participate in the fellowship, applicants must complete a questionnaire, which the nonprofit then uses to decide who should move on to the next round. Those selected will be asked to submit a business plan by early September, followed by the final step in vetting -- a taste test.
About 10 new eateries will likely open during Common Table's inaugural year, said Caroline Valvardi of The Enterprise Center --- which is footing the bill for nearly all the restaurant's expenses.
"We will provide the front of house staff," Valvardi said. "We'll provide all the food and ingredients… We'll basically build the restaurant for them."
But there is a caveat for the cash-strapped. The entrepreneur will not receive a paycheck and any dollars gained during each residency will get poured back into the pop-up space, Valvardi said.
Each fellow can put their own personal touch on the 1,400-square-foot space, which they'll occupy for about a month.
They will also receive technical training and financial advice as part of the approximately six-month-long program.
Anticipating the space will be unoccupied during some portions of the year, Valvardi said Common Table would welcome established restaurateurs to fill those gaps and test out their own ideas.
Many culinary stars may be excited about the opportunity to showcase their cuisine, but the real benefit is Common Table's educational component, said Daniela D'Ambrosio, chef and co-owner of Pickled Heron, a French-inspired bistro.
"We would have loved to have someone guide us through financing and permits and health inspections," said D'Ambrosio, who opened Pickled Heron at 2218 Frankford Ave. in the city's Fishtown section nearly 3 years ago. "For someone who finds all the paperwork daunting, this is great."
But the hospitality industry veteran warns the future Common Table participants that one busy month in the pop-up location does not ensure their enterprise will survive elsewhere.
"Because your restaurant is successful for a month in West Philadelphia does not mean it is going to translate well to other places," she said. "Restaurants have so many variables to their success and location is a huge one."
Scheduled to open late fall, the pop-up location at 310 S. 48th St. is currently under construction. The deadline for the first round in the application process is Aug. 15.
---
Contact Alison Burdo at 610.668.5635, alison.burdo@nbcuni.com or follow @NewsBurd on Twitter.