Entertainers, politicians, activists and athletes will gather outside the Philadelphia Criminal Justice Center Monday morning to protest the imprisonment of Philly rapper Meek Mill.
The event will start at 8 a.m. outside the CJC on 1301 Filbert Street where lawyers for Mill, whose real name is Robert Rihmeek Williams, are expected to meet with Judge Genece Brinkley for a status hearing. The protesters will hold a rally and sit-in while demanding that Judge Brinkley overturn the rapper's conviction.
Mill is fighting for release while appealing a two to four-year sentence for a probation violation. Judge Brinkley said his drug use, arrests and other issues while under supervision merited the jail time. Mill's lawyers accuse her of having a "personal vendetta."
"The same officers who arrested Meek Mill are now under investigation for their participation in crimes conducted by fellow officers, ranging from assault, robbery, and kidnapping, to committing false arrests," organizers of Monday's rally wrote. "Despite this, Meek Mill has been refused bail, and remains in prison serving a 2 to 4-year sentence for technical probation violations: non-criminal and non-violent offenses."
Since his sentencing, Mill has received support from fans and high-profile figures across the country, including New England Patriots owner Robert Kraft who, along with Philadelphia 76ers co-owner Michael Rubin, visited the rapper in prison Tuesday. Afterward, Kraft called for reform of the criminal justice system. Mayor Kenney also visited Mill Wednesday.
Watch: Robert Kraft Speaks on Meeting With Meek Mill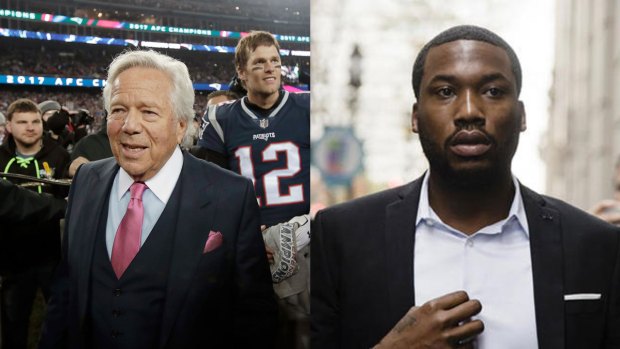 Rubin is expected to attend Monday's rally along with Philly rapper Lil Uzi Vert, Pennsylvania Lieutenant Governor Mike Stack and Philly academic, journalist and author Marc Lamont Hill. Rappers Rick Ross, Freeway and members of the Philadelphia Eagles, who used Mill's song 'Dreams and Nightmares' for motivation during their Super Bowl run, are also expected to attend.
Organizers say the rally will give a voice to the "thousands of Pennsylvanians" who have "faced the same cycle of injustice."