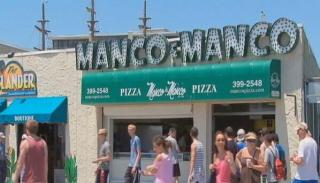 The co-owner of a chain of landmark Jersey shore pizza places will not be reappointed to a local tourism board while he and his wife face federal tax charges.
The Press of Atlantic City reports the Ocean City Council pulled a resolution from its Thursday night meeting that would have reappointed Charles Bangle to its Tourist Development Commission.
Reaction among council members to Mayor Jay Gillian's decision to reappoint the owner of the Manco & Manco pizzeria stores on the Boardwalk in Ocean City and in Somers Point was mixed.
Bangle and his wife face a 30-count indictment that alleges they failed to report $980,000 in income from 2007 until 2011. They've pleaded not guilty to the charges.
Several city officials said Bangle has done admirable work. But Councilman Pete Guinosso says that it was crazy to reappoint him while the legal case plays out.