An armed, off-duty Clifton Township, N.J. cop surrendered to police Sunday after barricading himself inside a Doylestown Township home for several hours as he, according to a criminal complaint, was apparently ready to die in a hail of law enforcement gunfire.
The suspect, Richard Klementovich, who also served in the Gulf War, surrendered to police shortly before midnight. Police say he was holed up in the home of his estranged wife at 25 Bittersweet Drive for nearly 10 hours. Klementovich, 42, was the only person inside the home during the standoff, authorities said.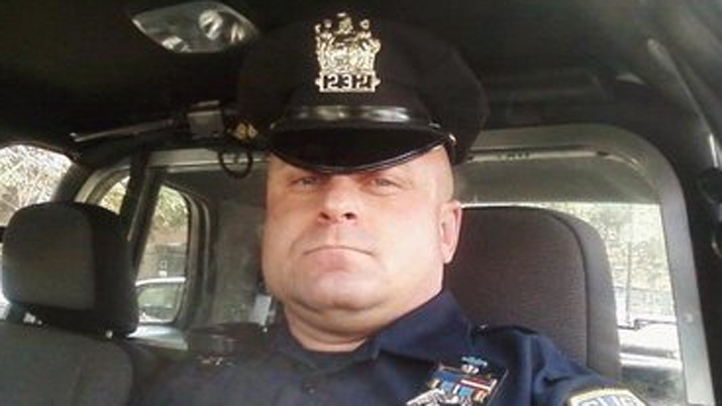 Police were called to the residence around 1:44 p.m. to break up an alleged dispute between neighbors. It escalated into a standoff and a SWAT team moved armored vehicles into the backyard.
On Monday morning, acting Doylestown Police Chief Dean Logan told reporters that Klementovich himself had made the original emergency call.
Logan says that when an officer arrived they found a letter addressed to Doylestown Police laying in the driveway allegedly from Klementovich that stated that he was a police officer and had nearly 2,000 rounds of ammunition.
Logan wouldn't detail the letter to reporters but its alleged contents were revealed in an affidavit obtained by NBC10.
"The envelope had a paper fastened to it which basically advised that the subject had scoped rifles, 2,000 round of ammunition, he was law enforcement and that he was ready to die," according to the affidavit.
Logan said that after that officer backed up from the area that the off-duty cop began shooting from the windows at police officers.
The responding officer advised neighbors to flee the area as the gunfire began, according to affidavit.
"It was just like pow, pow, pow…it was like a rifle. I must have heard 50 shots," said Dawn Keely, who is a neighbor.
One Doylestown officer suffered minor injuries from shrapnel, Logan said.
According to the criminal complaint, Klementovich was in contact with his parents and had texted them at 4:35 p.m., "Tell the police I have a surprise for them, this is the way I want to die."
The shots struck two patrol cars and an armored vehicle as well as a neighbor's car, according to Logan.
Officers warned other residents to lock themselves in the basement or leave immediately. About a dozen residents were displaced.
The Chief says that police returned fire but that it still isn't clear how many rounds were fired.
Klementovich, who Clifton Police say was a 14-year veteran of the force, was dressed in tactical equipment -- anticipating a police response, Logan told reporters.
Klementovich was arraigned at 4:30 a.m. Monday on 85 different charges including 42 counts of aggravated assault, 14 counts of assault on police officers, 14 counts of criminal attempted homicide, 14 counts of reckless endangerment and a weapons charge, according to court records.
The Clifton, N.J. resident was detained in county jail after he was unable to post 10-percent of $100,000 bail. A preliminary hearing is set for Aug. 2, according to court documents.
Logan said police don't know what sparked the incident.
Klementovich and his estranged wife are involved in a bitter divorce, according to friends.
The criminal complaint also stated that investigators had obtained a copy of an e-mail received by Richard Klementovich's estranged wife Jill Major.
Verbatim from the criminal complaint:
In the e-mail, Richard Klementovich apologizes to Jill Major for personal shortcomings, advises that he was on steroids, mentions dieing several times, and says: "I get angry. Angry at this job and law enforcement. And its them who I take out my anger on. They will do the job I couldn't and take my life... Not to mention the two rifles ammo magazines scope which prob were over 12000$ I hope whomever comes to our house is ready to die tomorrow because I will be Jill."
On Monday afternoon the Clifton Police Department released a statement that said in part that the department was "shocked and saddened" to learn of the incident, which Clifton officers assisted to resolve:
In response to the events that transpired yesterday afternoon, members of this agency responded to the scene and worked in conjunction with Pennsylvania authorities throughout the ordeal. During the crisis, fellow Clifton officers were able to establish communication with Officer Klementovich and assisted in his eventual surrender. The department is extremely thankful that the situation ended without the loss of life or any serious injury.

At this time, the motive behind the incident is undetermined, however the investigation is on-going. Additional details will be made available as the investigation progresses.
---
Fan, follow and download: Get the latest from NBCPhiladelphia.com anytime, anywhere. Follow us on Twitter, Facebook and NBC Philadelphia. Sign up for our sports newsletter. And, get breaking news delivered right to your mobile phone -- just text PHIBREAKING to 639710 to sign up. (Message and data rates may apply.)
Published at 7:30 AM EDT on Jun 19, 2012