A beloved Center City Philadelphia diner serving up late-night eats for decades served its final omelet late Monday night.

Little Pete's along S. 17th Street at Chancellor Street closed its doors for good at 9 p.m.

The diner stands as a restaurant relic amid Center City's many foodie-geared eateries, serving up traditional diner fare 24 hours a day over nearly 40 years. The diner is one of the last of its kind in Center City with closures of Midtown II and other diners in past years.
The diner will be torn down to make way for the Hyatt Centric Hotel Project.
Landmark Center City Restaurant Closes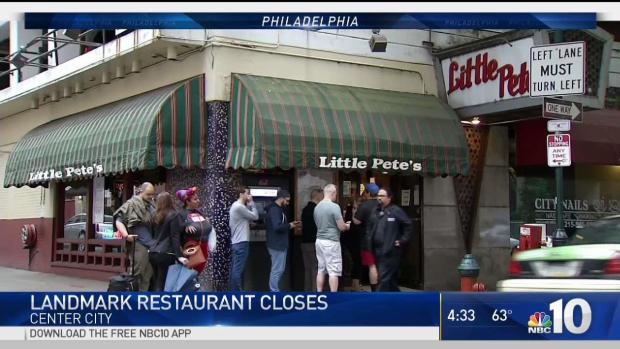 Throughout Memorial Day, longtime customers visited the diner to enjoy one last meal and reflect on their many memories.
"1976, the after prom, we were at the Warwick Hotel for our prom," Sharida Gillison said. "We had a limousine. We went to Atlantic City and on the way back, was it 2 o'clock in the morning or 3? Little Pete's was the stop."
Diner co-owner John Koutroubas said he'll take a break, visit Greece for a few months and then get back to work, possibly at their Fairmount location. He's also not ruling out the possibility of another Little Pete's.
"Yes, there could be," Koutroubas said. "Never say no."