Councilman David Oh visited Kevin Hart on the set of "Untouchable" Friday, to present the Philly comedian with a plaque marking July 6 as "Kevin Hart Day."
The presentation took place at Sun Center Studios Friday afternoon between takes of the actor-comedian's latest film project. Raw Video: Kevin Hart Accepts Special Proclamation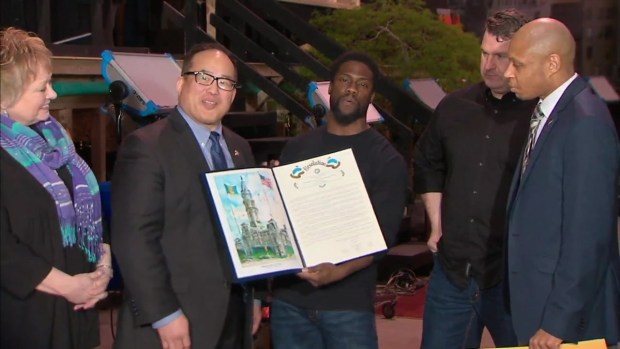 The presentation took place in between takes of the actor-comedian's latest film project "The Untouchables" at Sun Center Studios Friday afternoon.
"Kevin Hart is a fantastic ambassador for the City of Philadelphia, and this is a simple way to show him gratitude," Councilman Oh said of "Kevin Hart Day."
City Council recenty passed the "Kevin Hart Day" resolution, selecting the date to coincide with the comedian's birthday.
On Set: Kevin Hart Shoots Film in Kensington
Published at 6:40 PM EDT on Mar 24, 2017 | Updated at 11:44 PM EDT on Mar 24, 2017