"Shots fired, 60th and Spruce, I'm shot, I'm bleeding heavily."
Those were the words Philadelphia Police Officer Jesse Hartnett shouted moments after a gunman claiming he was performing on behalf of Islam around one dozen shots at the officer with a stolen police gun as he drove his patrol car through a West Philadelphia intersection late Thursday night.
"All cars standby we have an officer shot at 6-0 and Spruce," the police dispatcher calmly says on police radio traffic obtained by NBC10 -- the officer is heard around 10:28. (WARNING: The audio contains profanity)
Moments later, Officer Hartnett can be saying again, "I'm bleeding." 'I'm Shot, I'm Bleeding Heavily:' Philly Officer Calls for Help
Video obtained by NBC10 shows the suspect -- later identified as Edward Archer -- firing the shots then running from the scene as Officer Hartnett jumps out of his patrol car and fires at the fleeing gunman.
The 18th District officer who previously worked in Delaware County then says "look behind your back (profanity)" in a comment apparently directed toward the suspect.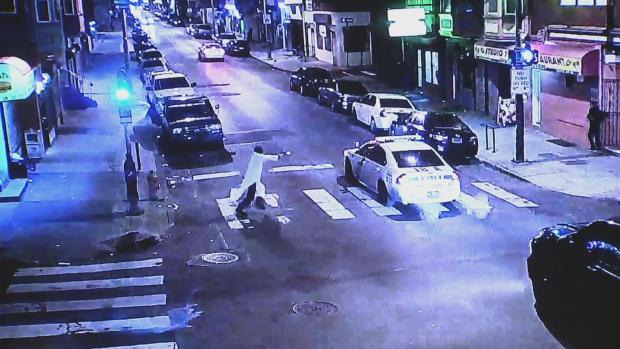 Surveillance Photos Show Shooting of Officer Jesse Hartnett
Officer Hartnett continues to talk to dispatchers, breathing heavily – at times unintelligible – as he tries to direct police toward the scene.
Police are then directed toward nearby streets where they nabbed the suspected gunman -- wounded in the buttocks -- a short time later. An officer can be heard saying a gun was recovered a block away on Delancey Street.
"This is absolutely one of the scariest things I've ever seen," said Philadelphia Police Commissioner Richard Ross after the shooting. "This guy tried to execute the police officer."
Minutes of radio traffic then involves police trying to find out the condition of the officer and the suspect, who was hit by return gunfire.
Hartnett, a five-year veteran of the police force who previously served in the Coast Guard, spoke to police as they rushed him to Penn Presbyterian Hospital where he was treated for three gunshot wounds to his left arm that left him with a broken arm and nerve damage.
"I love him, I'm very proud of him and he's an excellent person," said the officer's father Robert Hartnett after visiting with his son.
Police said Archer, 30, confessed to the shooting and said he did it in the name of Islam. The gun he used -- a 9mm Glock 17 -- was stolen from Philadelphia Police in 2013.