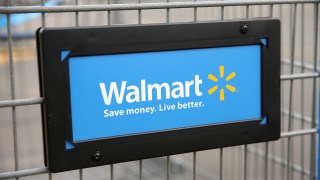 The suspect in a shooting at a Pennsylvania Wal-Mart store told police he opened fire on his co-worker because the employee was offended he was changing genders to female and had threatened him, police say.
Zachary McClimans, 22, of Sharon, told police he raised his concerns to management at the Hermitage store last week but "no decision had been made" regarding the other employee, police said in a criminal complaint Friday.
McClimans decided one "solution" to the problem was shooting his co-worker so McClimans took his grandfather's .380-caliber pistol and drove to the store, the complaint said. Although McClimans originally planned to shoot the other employee outside the store, McClimans went in and shot him about 10:30 p.m. Thursday, the complaint said.
The employee was shot four times, including twice in the back, authorities said. He was taken to St. Elizabeth Hospital in Youngstown, Ohio. Hermitage police said he's expected to recover.
An attorney for McClimans wasn't listed in court documents. Phone calls to several of his relatives went unanswered, except for one man who refused to give his name and declined to comment.
McClimans also is charged with aggravated assault and reckless endangerment, theft and carrying a firearm without a license.
The Wal-Mart store in Hermitage, about 70 miles north of Pittsburgh, closed overnight Thursday after the shooting. It reopened Friday morning. Store employees wouldn't comment, but Wal-Mart spokesman Charles Crowson confirmed in an email that one worker was injured and said one worker was fired.
"Our thoughts are with the associate who was injured. The other associate involved has been terminated," Crowson said. "We're continuing to gather all of the facts and work closely with law enforcement."
Wal-Mart said police would have to answer any questions about McCliman's allegation of harassment at the store.
Although McClimans told police he's switching genders, it wasn't known if he has begun identifying as female. Police checked the box marked "male" on the criminal complaint and did not list any feminine aliases for McClimans.
The Associated Press was not able to reach the injured man or his family through the hospital, and police didn't return calls seeking additional information about him or other aspects of the shooting.
The victim was named in the criminal complaint but the AP withheld his name because he's not charged with a crime and could not immediately be reached to respond to McClimans' accusations against him.