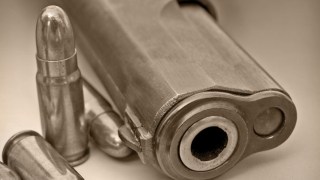 A former University of Pennsylvania police officer is facing federal charges after he allegedly showed a fake badge to obtain access to a Philadelphia federal building while armed.
Melvin Ramos, 55, is being held in federal custody pending a psychiatric evaluation over the August 11 incident.
According to court filings, Ramos went to the William J. Green Federal Building at 6th and Arch Streets that day to file a complaint with the FBI against Penn Police.
The man allegedly showed a badge and identification card to a receptionist identifying himself as an officer. When asked if he was armed, he said yes and offered the gun to them, according to court documents. But after the building security conferred with agents, he was permitted to go to the building's 8th floor while armed.
While firearms are typically banned from federal buildings, members of law enforcement are usually allowed to enter with their weapons, officials said.
Agents met with Ramos to hear his complaint, but said he began to digress on a variety of topics and talk about the suicide of a former Penn officer, court documents stated. They said the man told them several times that he was an officer with the university police and that he was currently on medical leave for Post Traumatic Stress Syndrome.
After some time, the agents began to question Ramos' employment status, took the badge and ID card and his gun, which was a semi-automatic handgun loaded with 15 rounds, officials said.
The Penn Police were contacted and told agents that Ramos had not been an officer since March 2014 and never returned his identification card. The badge he used to gain access to the building was a knock-off of a Philadelphia Police badge with the wrong badge numbers on it, court documents state.
Ramos was then arrested and charged with Possession of a Firearm in a Federal Facility and Making a False Statement.
The man's ability to easily gain access to the federal building while armed has raised concerns with U.S. Sen. Tom Carper of Delaware, who chairs the Senate Homeland Security Committee. In a statement to NBC10.com, Carper said his committee has been looking at security at federal facilities since the 2013 Washington Navy Yard shooting that killed 12 and injured three others.
"After our Committee's close review of the security practices and procedures at federal facilities in the wake of the tragic shooting at the Washington Navy Yard, it became clear that the quality of the physical security at our federal buildings is in need of improvement, and this incident underscores that finding," he said.
The senator said he's looking forward for additional information from the Federal Protective Services, the division of Homeland Security that protects federal buildings, about how to prevent such a breach from happening again.
Asked whether the incident has prompted a review of security procedures, an FBI spokesperson said they could not comment because of the pending case against Ramos.
But, a senatorial source said the Federal Protective Service is set to meet with the building's tenants to review security policies and discuss any necessary changes.
A request for comment from the Penn Police department was not immediately returned as was a request from Ramos' court appointed attorney.
A competency hearing for the man is scheduled for August 28.