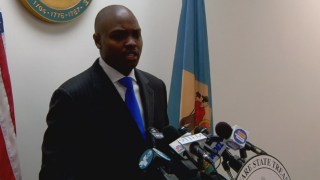 Dover police are investigating a harassment complaint filed against Delaware's state treasurer by his former deputy, authorities said Wednesday.
The complaint was filed last week, a month after former deputy treasurer Erika Benner first told police that her former boss, Treasurer Chip Flowers, had been harassing her with texts and phone calls.
Benner said the harassment began after an encounter between Flowers and her 16-year-old son as the treasurer was waiting to participate in a Fourth of July parade in Dover. According to the complaint, Flowers told Benner that if her son approached him again, he would have to defend himself with a gun.
Flowers, who is black, claims Benner's son threatened him, using a racial slur. Benner and her son are white.
Flowers also denied harassing Benner and said he has several text messages showing that she has repeatedly contacted him since complaining that he was harassing her.
"As the evidence shows, Ms. Benner has repeatedly communicated with me, trying to hang out with me," Flowers said. "We just don't know why these false complaints were filed."
Flowers questioned the timing of Benner's complaint, which comes less than a month before his Sept. 9 Democratic primary.
"I feel very sorry for this individual that she has to resort to lies and misstatements 30 days before an election," Flowers said. "The timing is very suspicious."
Benner denied calling or texting Flowers since filing her complaint and said it has nothing to do with the election.
"There's no political motivation. He threatened to kill my son," Benner told The Associated Press in a phone interview. She said she never heard her son threaten Flowers or use a racial slur.
"Obviously, my kids know about what Chip has done in my employment situation and they know things about Chip that not necessarily the public knows," she said.
Benner resigned last year after officials discovered repeated unauthorized use of her state credit card for personal expenses, including more than $1,000 for football tickets and private car service to a New England Patriots game. Benner reimbursed the state for the improper charges, but the controversy prompted Flowers to announce that he, too, would reimburse the state for certain expenses. Much of the scrutiny over spending by treasury officials involved a 2012 trip to Alaska by Flowers and Benner.
Dover police spokesman Cpl. Mark Hoffman said Benner went to the police department Wednesday afternoon and asked about police releasing information to the media.
"You could tell she was a little upset, but wasn't disruptive or disorderly," Hoffman said.
In their July 6 incident report, police say Benner reported that she and Flowers had a romantic relationship that ended in 2012 and was physical at times.
Flowers said he would not discuss his personal life.
Benner on Wednesday denied having a romantic relationship with Flowers and said the police incident report was incorrect.
Dover police said Benner's initial complaint did not result in an investigation because there was no indication a crime had been committed. But she contacted police again last Thursday, saying Flowers was still calling and texting her after she told him to stop.