A 23-year-old man accused of abducting and sexually assaulting a 4-year-old and then dumping her in a Delaware pond, remained behind bars Friday on $1 million bail after waiving a preliminary hearing.
Daniel Santucci Jr. was set for a hearing Friday morning but his attorney asked to waive the hearing. Nicole Magnusson, spokeswoman for Attorney General Matt Denn, said that the case is headed for an arraignment in Superior Court at a yet-to-be determined date.
Santucci was unable to post $1 million bail on the attempted murder, kidnapping, sexual assault and child pornography charges, and remained in jail.

"I share the feeling of relief with the community and our officers now that this predator is off the street," said New Castle County Police Chief Vaughn Bond Jr. said while announcing Santucci's arrest Monday. He called the crime "heinous" and "despicable."
"Our hearts, thoughts and prayers go out to the victim and her family because their lives have been altered forever," Bond said.
Investigators said the 23-year-old suspect lured his 4-year-old victim while she played with friends along the 4800 block of Sugar Plum Court in the Plum Run neighborhood of Pike Creek on April 6 around 7 p.m.
The suspect forced the girl into his car then sped off, causing several children to scream and give chase. A woman heard the cries and called police.
Suspect Charged in Abduction and Sexual Assault of 4-Year-Old Girl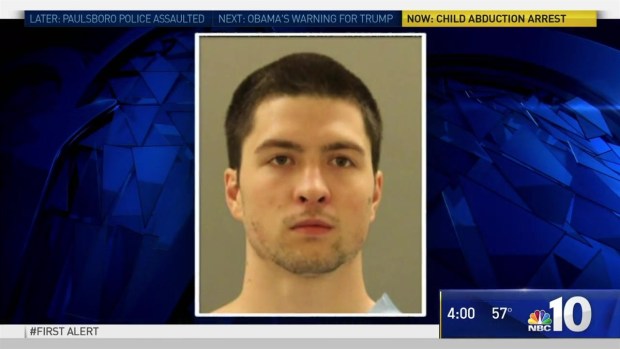 A Good Samaritan found the young girl nearly two hours later in a wooded section of nearby Banning Park wearing little clothing. The girl was taken to a local hospital where investigators discovered signs of sexual assault. According to their accounts, investigators later found that Santucci tried to kill the girl by throwing her into a large pond in the park.
Police were tipped off to Santucci, who had no previous contact with his victim, on April 11. He matched witness accounts. That same day, police found his black Honda Civic — consistent with the one used in the abduction — abandoned, still running in the middle of a Centerville road with the driver's door open.
On April 20, police arrested Santucci in Tampa, Florida on a probation violation. Investigators said he had boarded a Greyhound bus — a violation of his parole on an earlier charge.
Santucci was sent back to Delaware on May 1. Further investigation revealed he had child pornography, not related to this case, in his possession, police said.
Published at 2:32 PM EDT on May 12, 2017