Philadelphians and visitors to the city woke up on Friday morning to a world of barricades and tight security measures as authorities prepare for Pope Francis' weekend arrival.
Fencing blocked off areas starting just east of City Hall, requiring people in that area to walk north to Cherry Street, where security checkpoints were set up, if they need to get inside the perimeter.
Maureen Shaeffer and Ruth Schanbacher, who both came from the suburbs to go to work, didn't know each other before Friday morning. But they bonded over the tricky security measures.
"We've been brought together through adversity," Shaeffer joked after the pair passed through a TSA checkpoint at Broad and Cherry streets.
"It wasn't as bad as I thought it would be," Schanbacher said.
Schanbacher said she found the list of prohibited items confusing — she questioned whether that referred to all secure areas or just the Parkway, where only ticket holders will be able to enter during the weekend's events.
She got her answer quickly.
"I had to throw away my mace though," she said. "I forgot and left it in my bag."
About 10 blocks south, aluminum barriers flanked curbs on both sides of Lombard Street stretching toward the Schuylkill River. At each corner, sets of National Guardsmen set up command posts ready to watch over and guide the expected masses of people.
People trickled through here and there at the base of Ben Franklin Parkway as law enforcement officers — from Philadelphia cops to FBI and Homeland Security agents — kept a watchful eye on the area.
Security Preps Along the Parkway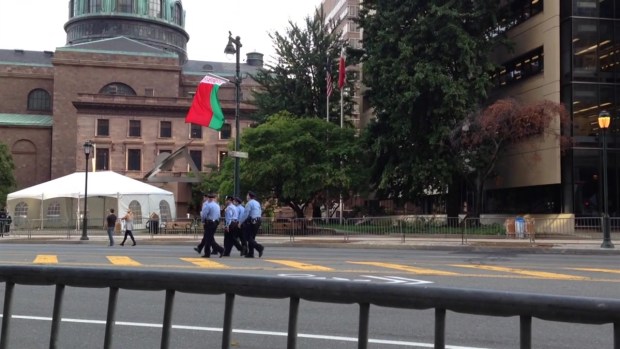 Shaughn Howery of Fishtown made is way through a checkpoint at 15th and Cherry streets, also headed to work. He said the security measures didn't faze him.
"It was fine. It was like going to an airport," he said. "It does look very weird."