A teacher and four students from a Philadelphia school remained hospitalized Tuesday morning after their charter tour bus overturned a day earlier while headed to a field trip in Washington, D.C.
Philadelphia School District Spokesman Lee Whack says the hospitalized teacher is Brittany Jacobs, a special education teacher at Charles W. Henry School.

The students have not been identified, but they were among 30 people on the bus from the school in Philadelphia's Mt. Airy neighborhood. All were hurt in the Monday morning wreck along Interstate 95 in Havre de Grace, Maryland.
The bus carrying 26 children, three chaperones and the driver, Clarence Beamer, 59, of Philadelphia, overturned at least once on the highway, Maryland State Police said.
"We felt the bus swerve and then, I guess, the bus just went up and started turning around," eighth grader Saniyah Copeland said. She received 12 stitches in her forehead.
GoFundMe for Philly Students in Tour Bus Crash
The critically injured teacher was flown to the University of Maryland Medical Center's trauma center in Baltimore. University of Maryland Medical System spokesman Michael Schwartzberg says Jacobs is in critical condition.
A spokeswoman for the Nemours/Alfred I. duPont Hospital for Children in Wilmington, Delaware, said the seriously hurt student had been taken there. Neither facility would give information on the patients' injuries or conditions.
Seventeen patients went to a University of Maryland hospital in Harford County. Nine others went to another of the university's hospitals in Havre de Grace. Two children were taken from a Maryland hospital to Children's Hospital of Philadelphia and by late Monday, neither remained at the facility.
Students and Teachers Hurt in Tour Bus Crash on I-95 in Maryland
"She's traumatized because one of her friends is still at the hospital," Linda Gordy, whose granddaughter was on the bus, said.
As of midday Tuesday four children and the critically-injured teachers remained hospitalized, the school district said.

Emergency responders credited Philadelphia police officers and recruits headed to a police event in Washington, D.C. with rendering immediate aide. They happened to be one of three buses near the crash.
"They were crying," retired Philadelphia Police Officer Charles Esposito said. "They were all asking about the other children."
Local Students Hurt in Maryland Bus Crash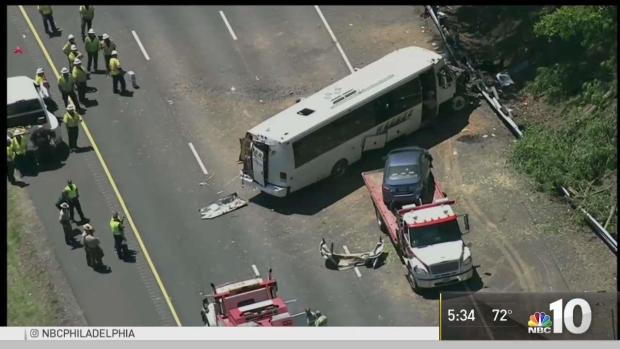 Video showed Philadelphia police recruits rendering aid and searching the woods near the crash scene to ensure everyone was accounted for, Joe Sisca, a passenger in another bus, said.
Philadelphia Officials on Scene of I-95 Bus Crash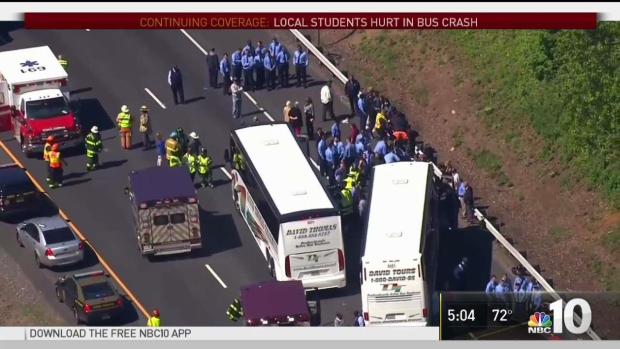 Dr. Steven Fountain, an emergency physician at Harford Memorial Hospital, said many of the patients suffered muscle strains and contusions.
Police in Maryland say a car that tried to pass the bus clipped it, causing it to overturn.
Raw Video: Tour Bus Crash on I-95 in Maryland
Troopers said the driver of the passenger vehicle, 20-year-old Menachem Backman of College Park, Maryland, refused medical treatment at the scene. Crash investigators have consulted with the Harford County state's attorney's office, who said charges would be withheld for now. Once the investigation is finished, troopers said in a statement, the state's attorney will review it and determine if charges will be filed.
Mayor Jim Kenney said, "As a parent myself, your mind runs wild as to what happened, especially if you can't see your child."
"This was a devastating event for all involved. Student safety, on and off school grounds, is of paramount importance, and the city will continue to do whatever we can to support the school district and assist families impacted by this tragedy," Kenney said.
The school district said it would offer. counseling at the school when classes resume Wednesday. (School is closed Tuesday for the Pennsylvania primary election.
Philadelphia Officers on Bus Directly Behind Crash on I-95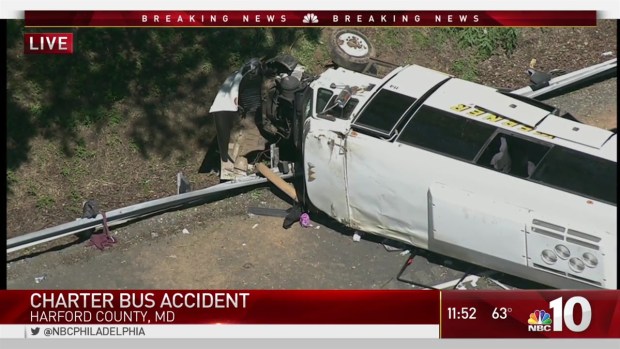 The bus was operated by Phoenixville, Pennsylvania-based charter company Werner Coach. The company issued a statement Monday evening, saying, "Werner Coach is cooperating fully with police, officials from the Maryland State Police and others to assist the passengers involved in the accident in Maryland.