Students at a Bucks County high school held a rally after a Ku Klux Klan flier was found in front of a home.
Police say the flier was found in front of a house on Court Street in Doylestown Friday. They are currently investigating. In response to the flier, students at CB West High School along with the group "Showing Up for Racial Justice" held a demonstration Monday.
"We invite all youth to show that the next generation will not tolerate the hate that has increased recently, but will only combat it with love, peace and kindness," said Courtney Carr, a senior at CB West and one of the event organizers.
Fighting Hate With Love in Bucks County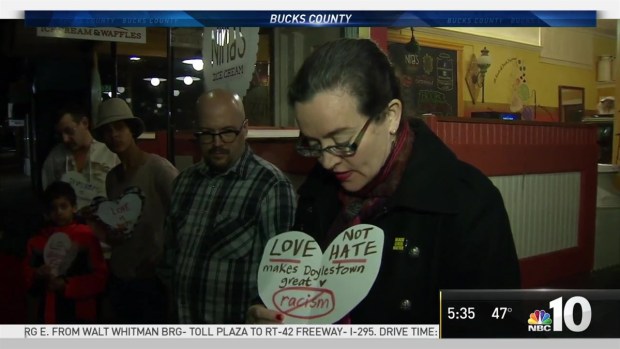 The event took place from 11 a.m. to 12 p.m. at the Zen Den on 20 Donaldson Street Monday. The demonstrators walked through Doylestown while holding signs with messages promoting love, peace and racial justice. Organizers also invited local businesses and residents in the area to take part in the event by placing, "Love Not Hate Makes Doylestown Great" signs on their windows.
Doylestown Residents Plan Rally After KKK Flier Is Found Outside Home