Police released surveillance video of a person of interest in an arson fire that destroyed several row homes that were under construction in Philadelphia's Point Breeze section.

On May 1 around 4:15 a.m., police responded to the 1300 block of South 20th Street for a fire. The fire quickly spread through several residential properties owned by developer Ori Feibush's OCF Realty that were in different stages of construction. No injuries were reported.
$12,500 Reward for Arrest in Point Breeze Arson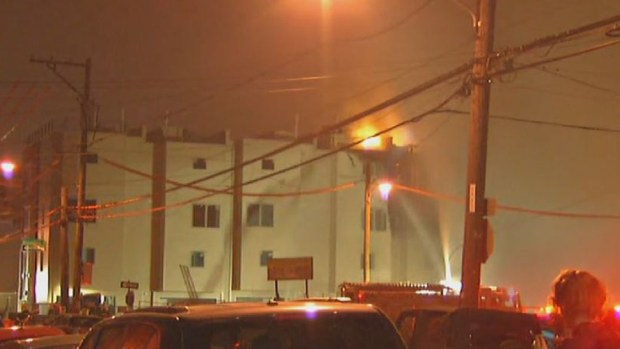 Surveillance video recovered from the area shows an unidentified man who police are calling a person of interest in the case. The video shows the man walking at the construction site before the fire occurred. Investigators say he appears to be a young, thin white male wearing a hooded sweatshirt at first. He is later seen again in the video a short time later without the sweatshirt and wearing a t-shirt, distinctive shoes and a reflective backpack.
The ATF, Philadelphia Fire Marshal's Office and Philadelphia Police Department are all investigating the arson. NBC10 also learned police are investigating a possible connection between the fire and vandalism in Kensington in which suspects damaged high-end cars and newly developed properties.

The suspects in the Kensington vandalism left behind a banner with an anti-gentrification message.
Fire Tears Through Row Homes Under Construction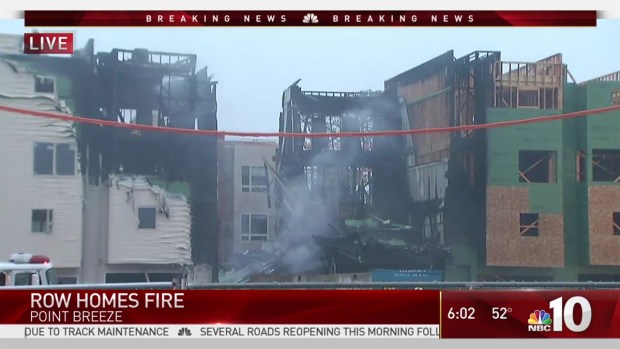 "We are considering all possibilities," Steven Bartholomew of the ATF said. "We have ruled nothing in and nothing out. As of this point the criminal investigation is underway."
Feibush created a Facebook post on the recent vandalism and arson incidents and linked them to anti-semitism. Investigators have not confirmed whether that was a possible motive however.
Philadelphia Police are offering a $10,000 reward for an arrest and conviction. The Point Breeze homes are in the district of Philadelphia City Councilman Kenyatta Johnson. Johnson is also adding a $2500 reward for anyone with information leading to an arrest bringing the total to $12,500.
If you have any information, please call the ATF 24/7 hotline at 1-888-ATF-FIRE (1-888-283-3473), email: ATFTips@atf.gov or submit a tip anonymously by using the ReportIt App on your mobile phone. You can also call Philadelphia Police or 911.