Hundreds of protesters, including parents with children in strollers, are protesting Donald Trump's presidential win near Philadelphia's City Hall. Skyforce10 Follows Anti-Trump March to 30th Street Station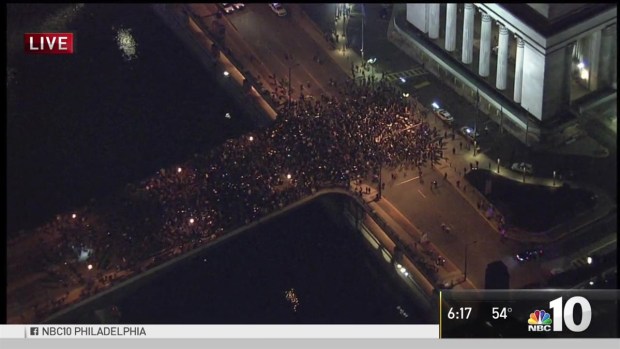 About 300 protesters had gathered by 5:30 p.m. Thursday, and the crowd was building. They held signs bearing slogans like "Not Our President," ''Trans Against Trump" and "Make America Safe For All."
Twenty-three-year-old Jeanine Feito held a sign reading "Not 1 More Deportation." The Cuban-American Temple University student says she acknowledges Trump as president-elect but doesn't accept it. Skyforce10 Over City Hall Anti-Trump Protest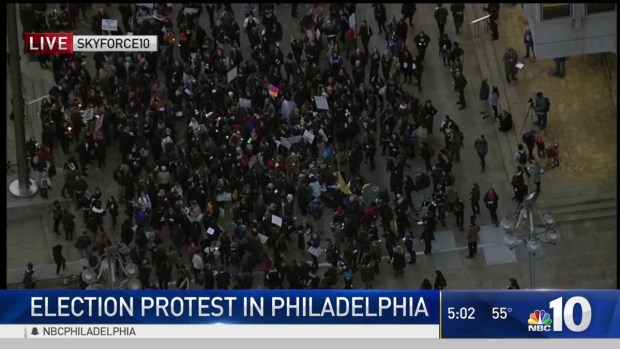 People passed Dixie cups holding candles in a vigil that organizers say is meant to provide a place to "mourn, grieve and be in community together."
The crowd rallied with calls and responses, including "We must remember to love ourselves and each other" and "not our president."
Demonstrators later marched around the city.
Police called the protests peaceful.
Around 1,000 people marched through Center City Wednesday night in protest after Donald Trump's stunning presidential win over what organizers called "massive feelings of anger, unrest and disgust at the outcome of Tuesday night's presidential election."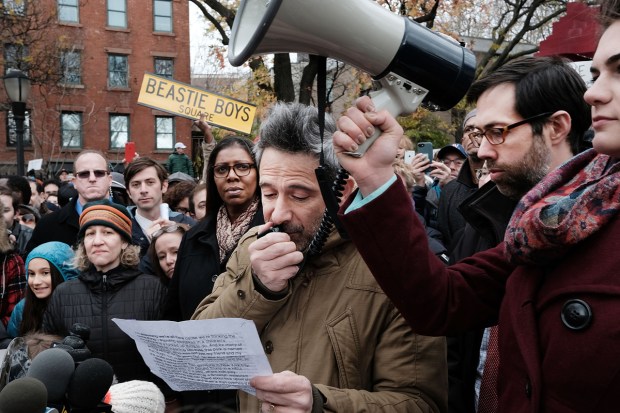 Anti-Trump Protesters Gather in US Cities
The protests are part of several that have occurred in cities across the country in the aftermath of Trump's presidential victory, including Oakland and New York.