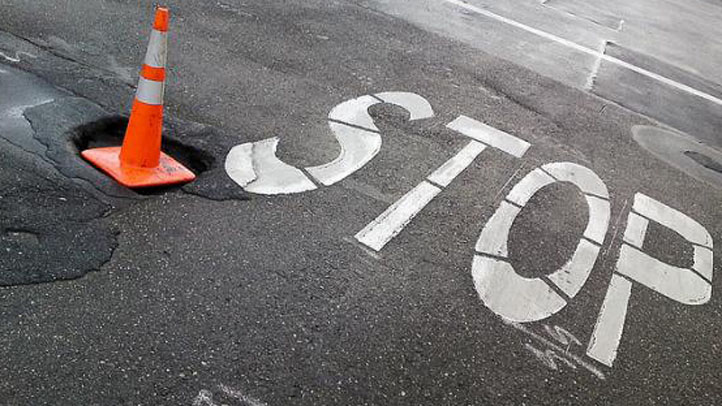 A $7.1 million dollar road resurfacing plan is approved in Burlington County.

The project will help the resurfacing of 12 roadways in 13 towns in the county.
It's partially funded by the annual NJ Transportation Trust Fund, and the rest will be paid for by the county.

The plan will now be submitted to the NJ Department of Transportation for approval.

"This repaving plan has proved to be far less costly than major reconstruction of roads if they are left in disrepair," said Burlington County Freeholder Director Joe Donnelly.

Here is the list of the roads that would be resurfaced, if the plan is approved by the state.
1 mile of Park Street (County Route 662) from Route 206 to Prince Street in Bordentown City
0.4 miles of Prince Street (County Route 662) from Park Street to West Burlington Avenue in Bordentown City
0.6 miles of Mott Avenue/Morris Street (County Route 632) from County Route 541 to Route 130 in Burlington City
0.6 miles of Bridgeboro Road (County Route 613) between Route 130 ramps to Riverside Township Line in Delran Township
0.5 miles of Moorestown-Mount Laurel Road (County Route 603) from Route 38 to Main Street in Moorestown Township
2.3 miles of Church Road (County Route 616) between Mount Laurel Township Line to Wilkin Station Road in Medford Township
0.8 miles of Main Street (County Route 541) between Route 70 to Trimble Road in Medford Township
2 miles of Mount Holly By-Pass (County Route 541) between Route 38 to County Route 691 in Lumberton, Mount Holly, Hainesport, and Westampton Townships
3.3 miles of Burlington-Mount Holly Road (County Route 541) between Mount Holly By-Pass to Route 295 in Mount Holly, Westampton, and Burlington Townships
1.7 miles of Main Street (County Route 681/616) between Route 206 to County Route 642 in Southampton Township
3.6 miles of Pemberton-Browns Mills Road (County Route 530) between Pemberton By-Pass to County Route 669 in Pemberton Township
0.4 miles of Greenbank-Chatsworth Road (County Route 563) between 1000' South of Bridge g7.32A to 900' North of Bridge G7.32A in Washington Township