UPDATE: Zamar died from his injuries on Monday. New details here.
A seven-year-old boy is fighting for his life after he was caught in the crossfire during a shooting on a West Philadelphia street, according to police.
"I heard it," Mark Thompson, a neighbor, told NBC10. "My wife heard, 'Pow, pow, pow, pow, pow!' She heard it but I took it like firecrackers."
Police said Zamar Jones was shot once in the head on the 200 block of Simpson Street on Saturday around 7:40 p.m.
A witness, who did not want to be identified, told NBC10 a gunman in a Chevrolet pickup truck opened fire at a group of people and then crashed into a red car as the vehicle sped off. Two men then fired back at the pickup truck in retaliation. One of those bullets struck Jones who was sitting on his parents' porch and playing with a toy, according to the witness.
The pickup truck with a bullet hole in its windshield was visible at the scene. The witness shared surveillance photos of the incident.
Police said Jones is in "grave condition" at Children's Hospital of Philadelphia. Family friends told NBC10 they spoke with the boy's mother who told them, "He is fighting for his life. He's a fighter."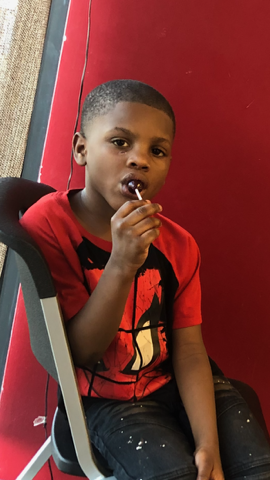 Commissioner Danielle Outlaw condemned the violence in a statement Saturday night, saying it had no place in the city.
Local
Breaking news and the stories that matter to your neighborhood.
"We are committed to securing justice and promoting healing for all who are affected," she said. "While every act of gun violence is lamentable, it is especially tragic when the victim is among our most vulnerable; and it is our collective responsibility - police, and community - to ensure that our children are safe and well-protected. Our thoughts and prayers go out to the precious child and his family."
City councilman Curtis Jones also spoke on the shooting.
"When you pull a gun and start a shootout in broad daylight and hit a 7-year-old kid, that's unacceptable," Jones said. "I don't care about the root of your issue. He was innocent."
Police told NBC10 the driver of the pickup truck is in custody but they are looking for more suspects. No weapon has been recovered from the scene.
The area where the shooting occurred has been plagued by violence and crime. In the past six months, 79 crimes, 11 of them violent, have occurred within a two block radius of Saturday's shooting, according to a crime map.
The boy's shooting marked a day of continuing gun violence in which two other people were killed.
Shortly after 1 p.m. Saturday in Fairhill, a man in his 20s died after he was shot three times on Howard Street near Lehigh Avenue, according to a police spokesperson. He was taken to Temple University Hospital and pronounced dead at 1:33 p.m.
And around 6:30 p.m. Saturday, a 34-year-old man was killed when he was shot six times in North Philadelphia. Police said he was on Marshall Street near Norris and was taken to Temple University Hospital, where he was pronounced dead at 6:40 p.m.
The violence continued into Sunday morning.
In the Port Richmond neighborhood, police said a man was shot to death near the intersection of Aramingo Avenue and E. Butler Street. In Kensington, four people – three women 21, 25 and 29 years old, and a 24-year-old man – were shot on the 300 block of Weymouth Street. Police said all four were in stable condition.
There are additional resources for people or communities that have endured gun violence in Philadelphia. Further information can be found here.