The score was 7-1 late in the quarterfinals game of the Philadelphia "Flyers Cup" Scholastic Championship Class 2A.
With about seven minutes left, the blowout in March between the Ridley Raiders and the Central Bucks West Bucks club teams turned violent. Video showed fights breaking out all over the ice.
What was a hockey brawl in March became a court battle Tuesday when six players from Ridley were charged with simple assault and two other related counts in Montgomery County district court.
The game was played at Hatfield Ice on County Line Road.
Two Central Bucks West students reported being injured, police said initially. Some of the players later talked with NBC10 about the melee.
Five of the six are charged as adults because they are 18 years old. The sixth is a juvenile who has not been identified. The adults are Nathan Dunning, of Kendron Avenue in Morton, Jake Cross, of Greenhouse Lane in Secane, Ryan Gricco, of Blackrock Road, Swarthmore, Thomas Plotts, of Donna Avenue, Woodlyn, and Brock Anderson, of Morton.
In addition to simple assault, they each face a count of conspiracy to commit simple assault and harassment.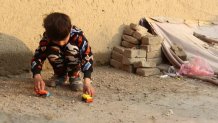 Video from the stands posted to social media appeared to show some scuffling among the two teams' fans as well.