Four men were taken in for questioning in connection to the repeated rape of a 26-year-old doctor inside her Rittenhouse apartment.
Philadelphia Police say they first started watching a home on South 8th Street in South Philadelphia on Sunday. On Monday they returned and searched through the home after issuing a warrant.
Investigators tell NBC10 that four men who live at the home were taken to the Special Victims Unit headquarters for questioning on Monday. Three of the men were picked up at the home while another was found on his bike near his job at Christian and Broad Street.
New Footage and Sketches of Rittenhouse Rape Suspect
Police say the four men are persons of interests at this point. No charges have been filed.
Police also say they collected at least two bikes as possible evidence.
The victim returned to the crime scene with her family earlier on Monday as police released a sketch of the rapist and new surveillance video.
New Rittenhouse Sex Assault Surveillance Video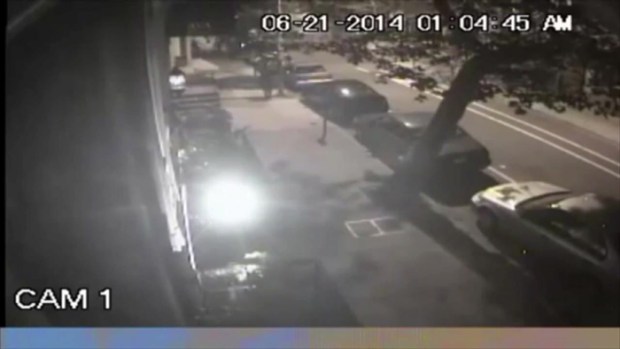 The woman was attacked around 1:20 a.m. on Saturday as she walked home from a bar called Ladder 15 at 1528 Sansom Street to her apartment in the 1900 block of Spruce Street.
The victim told police the man came up from behind her and grabbed her by the neck. He forced her to let him into her upstairs apartment, where he raped her multiple times, stole her phone and keys and took off, only to return a few minutes later.
Neighborhood surveillance video shows the man calmly locking up his bike on Spruce Street and then approaching the woman after she walks past him. With his arm around her, they walk the half block or so to her apartment. According to the time stamps on the video, the man leaves the apartment one hour and three minutes later. He walks back toward his bike and then immediately turns around and goes back into the building for another two minutes before leaving for good.
"He's a criminal is what he is and he needs to be in a penitentiary," Philadelphia police Commissioner Charles Ramsey said. "Beyond that, I don't think public TV would allow me to say what I really think about him."
After the attack, the victim, who is a doctor at the Hospital of the University of Pennsylvania, left the city with her family. She came back with family members to her apartment on Monday and met for a second time with investigators in the Special Victim's Unit.
Captain John Darby, head of SVU, said the timing of the attack -- especially the way the man calmly locked up his bike before approaching the woman -- indicates to him that the crime may have been planned.
The attacker is described as a Hispanic male, 25-30 years old, 5-5" to 5'10" tall, thin with black hair. He was wearing a dark-colored baseball cap, black t-shirt, blue jeans and carrying a black messenger bag.