A man is being hailed a hero after police say he shot and killed two armed suspects after a robbery at a Berks County convenience store.
Police say the two armed robbers, identified as Robert DeCarr and William Medina, entered the Krick's Korner store on Kutztown Road and Moss Street around 2 p.m. in Reading.
Police say the men stole cash, cigarettes and lottery tickets. As they left the store, investigators say a friend of the owner who was working nearby confronted the two men.
"He told these individuals to stop and that he was calling the police," said Berks County District Attorney John Adams.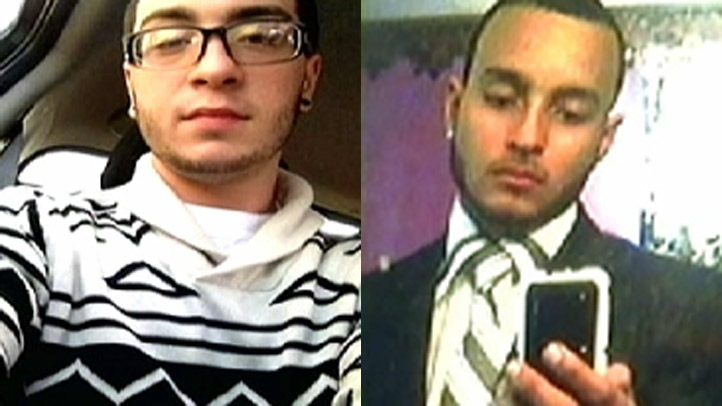 (Pictured: L to R: Robert DeCarr and William Medina)
Officials say the suspects then pointed their guns towards the man, leading to a brief scuffle. Unbeknownst to the suspects, police say the man was also armed with a gun. The man pulled out his weapon and shot both suspects in the chest, according to officials.
The wounded robbers then stumbled out of the store, according to investigators.
One suspect collapsed just outside the front door of the store while the other collapsed 10 to 15 feet down the sidewalk. They were both pronounced dead at the scene.
Those who knew the alleged robbers say it's hard to believe they did what they were accused of doing.
"They're downgrading him as a lowlife hoodlum," said Cynthia Matos, Medina's cousin. ""He was a father of his kids, honest guy and loyal son to his mother."
"I don't wish death on someone I grew up with my whole life but it happens," said a friend of one of the suspects. "But they should have thought about this before going."
Police questioned the man who shot the two suspects and later released him. Adams says he will not be charged with any crime.
"In this situation, the concerned citizen acted in the confines of the law," Adams said. "He used justifiable force."
Police say Medina and DeCarr may have been responsible for other robberies in the area.
Police also say a third person may have served as a getaway driver. A third arrest has not been made.
Police say a surveillance video captured the entire incident. They are unsure at this time however whether they will release the footage.

More News: