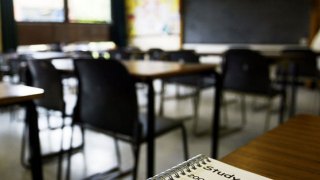 A dozen students at a Philadelphia high school were suspended after a brawl erupted in the hallways. The fight occurred during the last period of a shortened day at Martin Luther King High School last Wednesday.
Principal William Wade said security broke up the fight quickly. "Students were dealt with swiftly and there was no disruption to classes," Wade said. A dozen students were given long-term suspensions, which typically last from three to 10 days.
Students from neighboring Germantown High School merged with MLK High a year ago due to district budget cuts. According to Wade, the students involved in the fight are recent transfers. Wade called the fight an exception to the structured atmosphere he's created at the school.
"I welcome every young person in this neighborhood," Wade said. "But I know some of them come with challenges. Unfortunately, they have not been taught how to deal with those challenges."
When the suspended students return to school, they'll attend evening mentoring sessions, which include time spent with the principal. They're also required to sign a behavior contract.
---
Editor's Note: Our original story included YouTube video of a fight at MLK high school. School administrators believed at the time that the video was of last week's fight, which our report reflected. After further investigation, the district determined the video was from a fight that occurred last year.