Loved ones are mourning a 10-year-old girl who was shot and killed during a drive-by shooting in Vineland, New Jersey, on the 4th of July.
Jasayde Holder was at a home on the 700 block of W. Earl Drive around 11:15 p.m. Sunday when a car passed by. A gunman inside the vehicle then opened fire.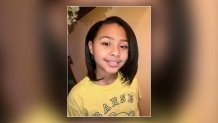 Jasayde was shot at least once and taken to the Inspira Medical Center - Vineland where she later died from her injuries. Police are working to determine whether Jasayde was the gunman's intended target. No arrests have been made and police have not released information on any suspects or the vehicle involved.
Anyone with information should call Detective Christopher Johnson at 609-579-1431.
Cumberland County Prosecutor Jennifer Webb-McRae is also asking anyone who lives in the area of W. Earl Drive, East Earl Drive, Earl Drive, Diane Court, Marcy Court and Shirley Court (within the area of S. West Avenue and W. Chestnut Avenue) to share their home cameras between the hours of 9:30 p.m. and 11:30 p.m. Sunday. Those with home video should contact CCPO.TIPS.
Jasayde had just completed 4th grade at Dane Barse School in Vineland. Her family described her as a creative girl who loved music and riding her bike.