It's 4/20...the unofficial holiday celebrating the biggest illegal (yet legal) drug known to man: marijuana.
This year's high holiday is even more timely since Pennsylvania became the 24th state to legalize the plant for medical use just this week. The Keystone State now joins New Jersey and Delaware who have been in the process of getting their own medical exchanges up and running.
There are an estimated 1.4 million medical marijuana users in the United States, according to the Marijuana Policy Project. And lots of them need help navigating the patchwork of cannabis types and offerings near them.
That's where WeedMaps comes in. The online service is billed as the oldest and largest technology company focused on marijuana. It's like Yelp for weed -- offering menus for weed dispensaries, video tours and user reviews of products.
Launched in 2008, the site now boasts 4.5 million unique visitors a month and 1 million registered users on its platform. It's also expanded into sales register systems and software for doctors offices.
Helping drive the company's expansion as its president and general counsel is Lansdale, Pennsylvania native Chris Beals. The 36-year-old North Penn and University of Pennsylvania grad joined the company eight months ago and already has his sights set on turning it into the 'Google of marijuana.'
We talked to Beals about how technology is being used to help people better find the marijuana they need, why bud names like Sour Diesel and Yoda OG are old-hat, how they're educating lawmakers on the issue and how lab testing and data is key to the industry's future.
Local
Breaking news and the stories that matter to your neighborhood.
Our conversation was lightly edited for length and clarity.
NBC10: What's a marijuana technology company?
CB: The thing most people know about us is the website WeedMaps that's essentially a site where you can find doctors, dispensaries, delivery services, deals in states where marijuana been legalized.
Later this month, we're launching brand pages which will enable people to start shopping by specific products which is a newer concept in the marijuana space. As mature people start to gravitate [to marijuana], they don't want XYZ product, they want the product made by this brand which they know and love.
In addition to that we own Marijuana.com which is a news and information portal. We also have the largest point-of-sale system in Spain and one of the largest point-of-sale systems in the United States. We have a doctor management software suite and we're working on a whole portfolio of additional software products so it's not just the web advertising/marketing side.
We're expanding internationally as well and we're trying to be the Google or Oracle of marijuana.
NBC10: Why would a person use a site like WeedMaps?
CB: A good analogy is wine. Right now if you go into a liquor store, you expect to see a fairly wide selection of reds, whites, rosés, champagnes and other stuff.
With the way the marijuana market works, especially in states where there's not a completely open market, you can walk into a store and they don't have what you're looking for.
It would be as if you walked into the liquor store and they had no red wine. And on top of that, if there's only 150 stores in your state, you might have just driven 30 or 40 minutes to get there.
We're doing integration with point-of-sale systems and allowing the dispensaries to update their menus. In addition, we do integrations with labs so you can see the actual lab testing data for that product, pictures of those products, a video tour of the dispensary so you know what the atmosphere is like, how knowledgeable the budtenders are to tell you about the products they have for sale.
So when you go there you know they have the products you are looking for and that work for you, and separately, that it's lab tested.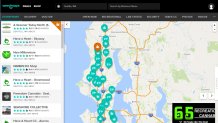 NBC10: Why is lab testing important? Is it just for safety?
CB: We know that dispensaries will change the names on products that come in to something that they know is selling really well. Or if something doesn't look just the way it should for that strain [of marijuana], they'll change it to another name so that it matches better. Or they'll just completely come up with a new name as part of their branding efforts.
There was an origin to the strain names at one time, but we're getting to a point now where growers will accidentally cross two different strains and wind up with something completely different and why try and go through the brain damage of trying to put a descriptive name on it.
That's why I think this lab-tested data is important, even getting to the genetics, to help people understand what they're consuming.
NBC10: Pennsylvania is now the 24th state to legalize medical marijuana, but each state's law is different. Are there things you feel need to change in these states?
CB: I think it's important to expand the list of medical conditions to more accurately reflect what people use marijuana for. Pennsylvania did a decent job on its list of conditions, but it could go slightly broader.
Separately, people would find it unacceptable if there were 150 CVS's in a state, I think increasing access to more points of sale, potentially having delivery services for people in hospice care and people who have mobility issues. These are all things that we think are incredibly important before you move to the recreational side.
NBC10: What about recreational use? Will it ever happen nationally? Or will it be a state-by-state issue?
CB: It's going to be piecemeal. We may see federal legalization of medical marijuana use, but I think the federal government is going to adopt a wait and see stance on this.
We generally do support the move to recreational use, but we're pretty big advocates of a lot of safety measures. We're incredibly passionate of advocating for better lab testing, more lab testing, broader lab testing panels to include terpenes (the oils in the cannabis plant that produce particular smells, color and tastes) which impacts what effects you feel when consuming marijuana.
A number of the senior execs at the company have children and we're big advocates on the recreational side of having a consumption age of 21. Ensuring that advertising isn't geared toward minors. Things like that.
On the flip side, we don't want onerous regulations like setting high prices for the drug or only allowing a small number of dispensaries. This can sort of encourage the black market to flourish.
I think it's in the state's best interest, it's in law enforcement's best interest and ultimately, it's in WeedMaps and the industry's best interest for the black market to be extinguished. And I think so far, legislation in some states has been a main reason we haven't quite gotten there.
NBC10: Do you think your websites are helping change public opinion about marijuana?
CB: I've been with the company for under a year and even in that short period of time I've seen a large shift in how people view the issue.
On the content side, I think content where people are just consuming marijuana is passé. People want to read stories or hear stories related to the industry or people in it. They don't necessarily want to see people consuming marijuana because that's just something that has kind of become normal at this point. It's not the sort of taboo, curious thing that it once was.
On the political front, we're very active in trying to reach out to state and local governments to educate them about what we're seeing that works and doesn't work. We're coming at it with somewhat of a neutral viewpoint because we're never going to own dispensaries and we're never going to run growing operations. We're a technology and advertising company to our core.
Even in engaging with those state and local legislators, I've seen a shift in the questions that they're asking. The conversation doesn't start with them being reserved and closed off. They'll start the conversation with 'I know that intelligent marijuana legislation is the right way forward and I just need help understanding marijuana and understanding that right now is the time I'm going to take a stand on it.'
NBC10: Have you talked to our local lawmakers?
CB: We haven't had a ton of conversations in Pennsylvania. We're starting to reach out right now.
In Pennsylvania, I think the biggest thing there is to make sure the legislation ensures safety, but on the flip side that it doesn't produce costs that are so high that it's not possible to run a profitable business in the state.
In New Jersey, a lot of folks are really interested in how marijuana legalization impacts things like reducing law enforcement costs or alleviating what's traditionally been the really disparate impacts that marijuana prohibition has had on the incarceration of minorities. Even though the consumption rates are pretty much the same among African-Americans and Caucasian communities, you tend to see the African-American community get arrested at four times the rate.
They're also trying to get medical up and running when you've potentially got Massachusetts going recreational this November.
NBC10: With a new state like Pennsylvania opening up to medical marijuana, what do you usually hear from new users?
CB: In new states, you'll see people asking about 'What's concentrate? What's oil? How do I consume it?'
There's so many new people who come in and say I'm eating edibles for the first time, there's a milligram amount on the side of the package, what does that mean for me?
We're launching a new platform about educating consumers about the products. So explaining what terpenes and cannabinoids are. Why I have to know what they are so that I understand how the marijuana is going to affect me. Will it make me feel full of energy? Will it make me sleepy? Will it relieve my pain?
NBC10: How did your friends and family react when you told them you joined WeedMaps?
CB: My mom specifically was not a big fan of it when I first told her.
I think overall, even now, my family has warmed up to it. I get a ton of questions now from my family asking 'Do you think marijuana would treat this?' or 'Do you think it would work for this?'
I was just at a marijuana conference up at Harvard Medical School and after that I got calls from my mom asking 'What were the studies? What did you hear?' So I don't think she's a fan of total recreational consumption, but I think she's pretty open and I think she's sort of a proud mom telling a lot of her friends 'Oh my son works for this large marijuana tech company.'
I have a few friends who actually work in law enforcement and I think even they have been sort of pleasantly receptive to this position.
Separately, a lot of my friends now always have questions about the latest things we're doing or what's the latest state to legalized. For the most part, I think people surprisingly been receptive to it and I think that reflects a lot.
I knew people got the marijuana issue when my mom and grandmother were both asking me questions and were excited about the latest developments at work.
NBC10: How do you see your business growing over the next few years?
CB: Even if legalization stays where it's at right now, I think there's still a lot of room to grow.
The big areas of growth are going to be adding on new software products and servicing new states as they come online. Then I also think it's going to be the development of a much broader data platform and data tools and sort of data analytics.
That's one niche that we can fill because working on point-of-sale, having the core site and interfacing with consumers online and seeing what their browsing habits are eventually we want to glue that together and sort of provide data that's useful to businesses.
But separately sort of help guide consumers as they do discovery through brands and learn about new products and that sort of thing.