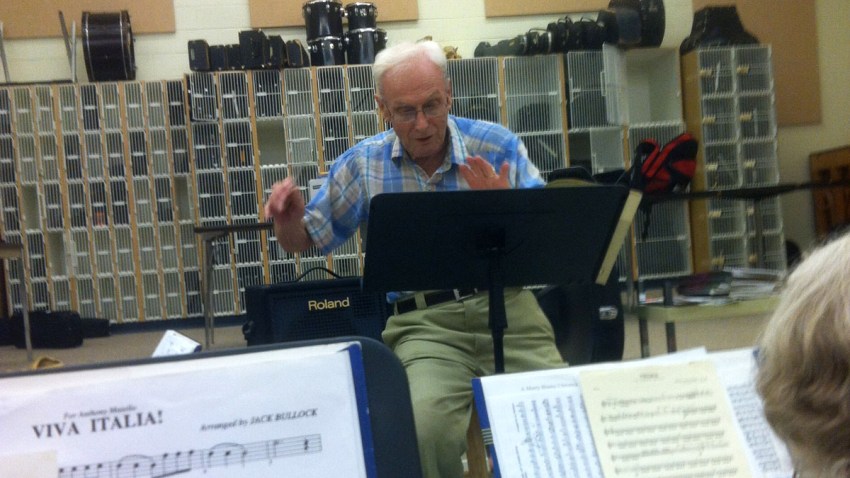 Editor's Note: 10 Questions is a weekly feature on NBC10.com. If you know someone who we should profile, please email us.
---
89-year old Bob McCoy is founder and former band director of the Moorestown Community Band in Southern New Jersey. He has dedicated over twenty years of his life to the band. Several of the band's members were once McCoy's former students, and eventually, became music teachers as well. Last year, McCoy officially announced that he was retiring from conducting, but he did not stop playing music or becoming an honorary conductor for one or two songs in a concert.
Local
Breaking news and the stories that matter to your neighborhood.
McCoy's age and stamina never cease to amaze friends, family, band members and concert goers. Approaching 90, McCoy is still as jovial and passionate about music as he was in his teen years.
When did you begin to study music?
My dad used to take me to concerts when I was younger. I played in the high school band. When I was a senior I was working in a supermarket and I couldn't play in the marching band anymore so I dropped out. When I came back from the war (World War II) I was a mechanic…my minister came to me and said, "Did you realize that there's a G.I. bill and you can go to college?" So I went to Lebanon Valley College and I chose to major in Music and minor in History.
As you approach your 10th decade, can you describe how music has changed over the years? It's changed from big band music and gradually growing into rock music and now rap music. I've always enjoyed gospel and country. As a kid I would laugh at country music but I started to like it, especially some of the older songs that tell stories. But I've learned to enjoy all types of music.
Can you describe how the Moorestown Community Band was created?
It was first formed back in 1991. I used to play in a local concert band, and I played every Wednesday and Saturday. I was already retired and did not want to be committed to that. So I started a band to help people who might just like to play for fun, especially for people who used to play an instrument. We started with twelve people and gradually we've grown to fifty or more.
What job were you previously doing before you started the band?
I was retired from teaching and I was working at a local bike shop for a few days a week. I had been an airplane mechanic in World War II and I was always doing mechanical things here at home. I started getting into the bike business. I had previously taken one of my bikes apart and regressed and repainted it, and my son watched me do it. He started to fix other peoples bikes and got a job in a bicycle shop. People were also giving me their bikes so I started fixing them in my basement. I did that from 1972 to '87.
What learning experiences do people get out of the Moorestown Community Band?
To just enjoy music and learn the expressions and feeling of it. Not just the notes. We raise our own spirits and we feel better after rehearsals, and the reason why we play the concerts is to lift the spirits of everyone there.
As a band conductor, what is it about your character that makes your musicians trust your guidance?
I don't know. Maybe it's because I like them and they like me back. At any job that's the way it should be if you're dealing with people. It's a blessing to me that twelve people in the band were my students when they were growing up.
At age 89, what's the interaction like between your members? What's the diversity like?
The interaction has been very, very nice. They always make suggestions if there is something that they would like to play. I'm always opened to other ideas. We try to play a variety of music from folk, concert, symphonic, marches -- almost any kind of thing. We have members from middle school up to 89 years old. I'm the oldest member in the band now. Forth teen of the members became music teachers and they're all over the world. One of the girls played oboe in the Spanish Symphony in Madrid for twenty years and now she's teaching at Dickinson College. I still get letters from other different students.
What has motivated you to teach music throughout the last few decades?
I love my work, and when you love your work, I think your students will like you back.
What should be done to keep music education in schools and why?
It should be kept in schools because music helps people's minds in other ways. After I came here to Moorestown, I started teaching not just bands in grades 5-8 but also strings. We built the program to the point that we hired a string teacher. Then it grew to the point that we had so many children in the program that we had to hire more band teachers. When we moved into the middle school had five music teachers, and people asked me how did you get that many music teachers in one school? We had them because 58% of the students were in the volunteer music program. Eventually our school ended up getting budget cuts, too. After a couple years I ended up doing all four grades again. You have to do the best that you can with the parents and let the board of education realize just how important music is.

Did you ever see yourself at age 89 being the director of a band and then playing clarinet and percussion?
No. I'm just glad that I am. I'm glad that I'm still on this earth. I've always enjoyed music and I've had an interesting and blessed life.