A small plane crashed and exploded in a Bucks County neighborhood on Thursday, killing both people on board.
The crash occurred around 5 p.m. on Morgan and Victoria lanes in Hilltown Township. A ring camera from Catherine LaPat's home captured the blast.
"I heard the engine shut off and glanced up and it did a flip and a spiral over my head," LaPat told NBC10.
The crash also caused Tariq Thomas' truck to catch fire.
"I was thinking I have chemicals in the back there and people are walking over," Thomas said.
A propeller from the plane also flew into Thomas' home.
"On impact, different shrapnel hitting different homes," Thomas said.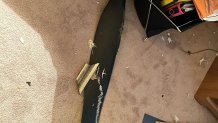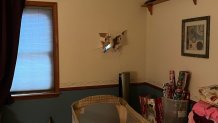 After the crash, LaPat and other neighbors ran toward the plane to try and help the people on board.
Local
Breaking news and the stories that matter to your neighborhood.
"All you could see was fire," she said. "You couldn't see anything past it in the black smoke."
Officials say two people who were on board the plane died in the crash. They have not yet revealed their identities but believe both victims were males. An autopsy will be performed on Saturday.
"Shock. Just total shock and sadness for the family, having a loved one," LaPat said. "So very sad."
No one in the neighborhood was injured during the crash and explosion. Hilltown Township Police Chief Christopher Engelhart told NBC10 the pilot was a hero for getting the plane to an intersection and away from houses during the crash.