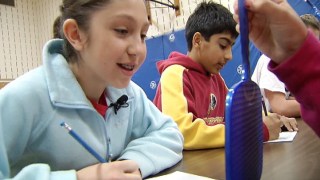 Over the next two school years, Tony had a behavioral aide in school through the Pennsylvania MENTOR program and Community Behavioral Health, Philadelphia's Medicaid provider for mental health. But the support he got was "not what he needed," said his father.
At the family's urging, Lovaas agreed to resume Tony's home-based ABA therapy in February 2011, with Independence reimbursing them, but ABA in school was still denied.
In July 2011, the court sided with the Burkes, agreeing that ABA should be covered in school.
Independence appealed the decision, and in August 2012, Superior Court sided with the insurer. This decision was based on a single sentence in the law that seemingly prohibits insured individuals, like the Burkes, from appealing final denials.
Tony, the subject of it all, remained unfazed. After one day of court proceedings, Tony provided comic relief as he clambered onto a table in the courthouse lobby and started talking to a portrait, thinking one of his favorite Monsters, Inc. characters was lurking behind it.
But John, a corporal in the Philadelphia Police records unit, and Suzanne, who works in human resources for the city, weren't laughing.
"We have a lot of hours logged into this insurance debacle," said John. On Sept. 13, 2012, he received 29 letters from Independence explaining that recent claims were being processed.
Mountains of paper are stored throughout the family's home: in 20-gallon tubs in the shed, a filing cabinet in the basement, and the storage ottoman in the living room.
In May, Gates argued before the Pennsylvania Supreme Court, asking them to overturn the lower court's decision. "We're cautiously optimistic," said John. "This is it. There's no other avenue at this point."
John and Suzanne are aware that the results of the case will likely not affect Tony. In fact, the Burkes' case applies only to a coverage period from January 2010, when the law went into effect, to July 2010, when their plan converted to a self-funded policy, yet another gap in the law. But that doesn't bother them. "It became not just about Tony," said Suzanne. "It's about all kids with autism."
Now that ABA is a large part of Tony's life, his behavior is much better, said John. Tony gets 12½ hours of ABA therapy each week through Lovaas at home. This is in addition to the therapy he gets at the Comprehensive Learning Center in Southampton, where Tony enrolled in October 2012. The Burkes are represented by another attorney in ongoing efforts to get coverage for his schooling from the Philadelphia school district.
His play skills are better, said Daniela Andrade, a senior supervisor at Lovaas. Tony has also learned how to shift focus from himself to others.
But his parents wish he hadn't lost nearly a year and a half of therapy. "Where would Tony be at this point if he'd had the services he needed?" asked John.
Another insurer is limiting the number of hours of ABA a child can get. Aetna initially authorizes only 20 hours of ABA per week. But guidelines from the Behavior Analyst Certification Board, which certifies ABA providers, say 30 to 40 hours are needed to change behaviors.
The insurer's policy is in line with current research, said Mark Friedlander, Aetna's medical director for behavioral health.
Bouer, the attorney, is disputing that for several clients. "Aetna is completely ignoring the standard of practice in the industry."
Delayed payments are yet another issue.
When Kara Matunas from Spring Lake Heights, N.J. submitted a claim for therapy for her autistic daughter, Reagan, 2, she was repeatedly denied.
Reagan gets Early Intervention, a combination of speech, developmental and occupational therapy. During seven hours each week, she works on skills like asking for things and properly using her fingers. The state's autism mandate requires insurers to contribute to covering Early Intervention.
When first diagnosed in November, Reagan "was an unhappy kid." Tantrums and meltdowns were the norm until she started therapy. Now she's calmer and speaking more. "It has been amazing," said Matunas.
When Matunas submitted the first claim to Horizon Blue Cross, she got a check minus the co-pay amount. But then she immediately got a letter denying the claim and requesting documentation on Reagan's diagnosis code.
On four subsequent claims, Matunas highlighted this information, but each time the claim was denied on the same ground. It takes a minimum of six weeks to get reimbursed, said Matunas, though Horizon maintains that most claims are paid in 30 days.
Two of the denials were "incorrectly generated due to a manual handling error" by an employee who has now been retrained, Thomas Vincz, Horizon's manager of public relations, wrote in an e-mail. The company has reached out to the Matunas family to resolve the issue, but Matunas isn't hopeful.
"They're just purposely delaying coverage," she said. The claims are eventually paid, but the family is left paying $400 to $500 up front each month, and things start to get short, she said.
Here's another gap: The autism laws apply only to traditional, fully-insured plans, in which companies contract with insurers to pay claims. These are becoming less common as large firms convert to self-funded plans, where employers pay for care more directly from their own funds.
More than two-thirds of large firms in Pennsylvania and New Jersey are now self-insured, and beyond the reach of the laws.
Both measures were written with a focus on ABA, which may limit how they can be applied to new therapies, said David Mandell, director of the Center for Mental Health Policy and Services Research at the University of Pennsylvania. "They solve an immediate problem, but they don't serve a long-term vision."
Autism New Jersey hosts a working group where representatives from the state, insurers, parents, and others discuss issues.
Pennsylvania State Rep. Thomas Murt (R., Montgomery) has also heard the challenges families are facing. He is sponsoring a bill to study the law's effects.
___
Online:
___

Information from: The Philadelphia Inquirer, http://www.inquirer.com
Published at 12:30 PM EDT on Aug 16, 2014